Back our boy
Glenn McCrory sticks up for boxing star Anthony Joshua and salutes cycling sensation Bradley Wiggins.
Last Updated: 02/08/12 4:43pm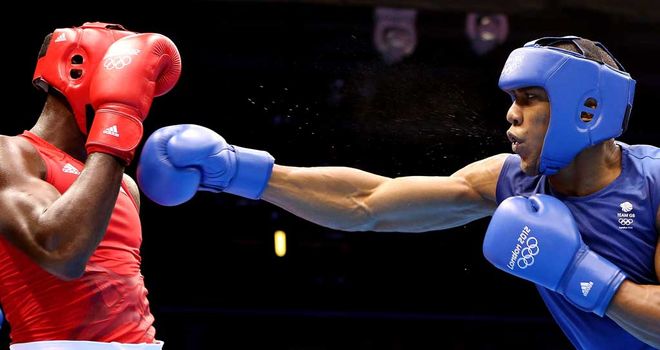 I thought Anthony Joshua put in a decent performance in his opening super-heavyweight bout at the London Olympics on Wednesday night.
A lot of people have said that he was lucky to pick up the win over Erislandy Savon - the 22-year-old took the tie by 17 points to 16 - but he did a lot of the better work.
Joshua was put under some serous pressure in the third and final round but in the first two he was the dominant fighter; he showed a terrific jab and some good defence, all under the intense pressure of performing in front of a home crowd.
People need to get off Anthony's back and stop being so negative; it doesn't matter that the fight was close, that he looked a bit ungainly at times, or that the other kid came on strong.
Joshua stepped up to Olympic level, fought the best young heavyweight Cuba - a dominant boxing nation - had to offer, a guy whose uncle, Felix, is a three-time Games gold medallist, and got through. We should be congratulating him, not slating him.
Anthony has overcome a big hurdle, but the next round won't be easy - he fights Chinese talent Zhang Zhilei - and he has still got it all to do.
British fans might see anything but Joshua winning a gold medal as a disappointment but he can't think like that; he has to push that out of his mind and take it one fight at a time.
I'm sure trainer Rob McCracken and the rest of the GB coaching staff, including my pal Richie Woodhall, will be drumming that into him.
Busy
It's good to see our guys getting through the rounds.
No British fighter has yet been beaten at London 2012 and Hull's Luke Campbell was the latest winner, progressing into the quarter-finals of the men's bantamweights, alongside Irish star Joe Nevin, who is a brilliant boxer.
Wales' Andrew Selby is ranked number one in the world in the flyweight division; he gets his campaign underway on Friday and as long as he stays busy - something that is key in the smaller weight classes - he is a gold medal prospect.
It's not just the Brits who've caught my eye, though, as I have seen some really talented kids from all over the world impress at the ExCel.
There is a fabulous little Mexican bantamweight called Oscar Valdez, while I also witnessed a great super-heavyweight clash between Canada's Simon Kean and France's Tony Yoka, which the former just edged.
It is really exciting to see the depth that's out there because people often criticise the lack of young talent in our sport, but some of these guys look like they could be future stars of the professional ranks.
Phenomenon
The crowds have been very vocal at the boxing, while the fans who spurred on Bradley Wiggins at Hampton Court on Wednesday afternoon were also extremely loud.
Wiggins deserves all the cheers he gets because he is a phenomenon; he looks like a kid that has been pulled from the dole queue but he is now Tour de France winner and Olympic time trial champion.
He is an unbelievable cyclist, has a fabulous personality and is a real man of the people; he has become a working-class hero. Hats off to Chris Froome as well who backed up his second place in the Tour with a bronze medal in the time trial.
I've also been watching a lot of swimming - it's the only thing I can get my three-year-old daughter to turn over the cartoons for - so hopefully Rebecca Adlington can get gold in the 800m freestyle final on Friday.
The track and field starts soon and I can't wait to see the big stars like Usain Bolt in action, but I hope that a new British middle-distance ace can be found.
Steve Cram, from my neck of the woods in the North East, Steve Ovett, Mike McLeod and, of course, Seb Coe used to dominate that field but we haven't really had that many greats in recent years.
Let's just hope there are plenty of excellent performances and characters for us to remember.
Follow Glenn on Twitter: @SkyGlennMcCrory