Brightest of starts
Glenn McCrory blogs on the Olympic Opening Ceremony and the early displays of Britain's boxers.
Last Updated: 30/07/12 2:45pm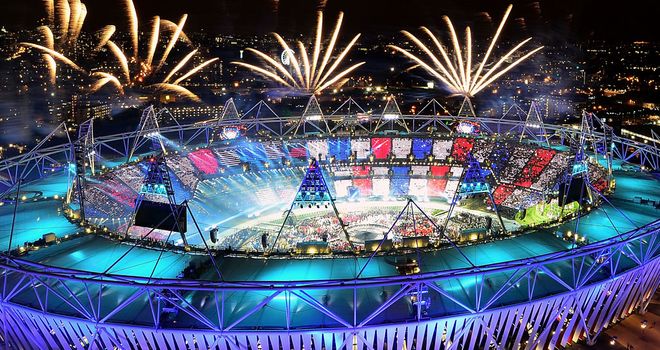 I thought the Opening Ceremony of the London Olympics was one the most spectacular things I have ever seen, and hopefully it has silenced people that were negative about the Games coming here.
Danny Boyle and his team put on an electrifying spectacle; the Queen played her part brilliantly and everyone involved, especially the kids who took part in the hospital scene, was fantastic. The show was a brilliant representation of Britain and it was so moving that I was struggling to hold back the tears.
It is still early days in the Games but the sport I have seen has been fantastic; I was really impressed by our men's gymnastics team and it's just a shame that pommel horse star Louis Smith is not a fighter as I think he would have made a good one!
It was a huge shame that Mark Cavendish could not strike gold in the men's road race because the British cyclists have been in such fantastic form of late at the Tour de France.
I can only speak from a boxing standpoint, but it is very hard to keep hitting your peak during a series of such grueling events and maybe that was the case with Cavendish and the boys.
Pressure
Britain's boxers have started very well, with all the guys that have been in action making it into round two of their respective events: middleweight Anthony Ogogo, welterweight Fred Evans and lightweight Josh Taylor.
However, they cannot get too far ahead of themselves because the Olympics is such a tough competition; there is intense pressure, the fights keep getting harder and your next bout always has to be the best one of your life.
Ogogo, who defeated Dominican Republic's Junior Castillo by a healthy seven-point margin in his first fight, is a great talent; he is a good-looking kid, has terrific charisma, and can do a lot in the ring.
Injuries have slowed him up a bit and he still chucks in a disappointing performance here and there but when he's on form he is a classy kid.
Ogogo will face 2011 World Amateur Champion Evhen Khytrov in the second round but I think he will relish facing such a tough opponent and it will bring out the best of him.
Anthony Joshua, meanwhile, begins his quest for super-heavyweight gold on Wednesday against Erislandy Savón, the nephew of legendary Cuban fighter, and three-time Olympic champion, Felix.
Erislandy should be extremely well conditioned and will be desperate to keep the Savon name burning bright; it will be interesting to see if he has got any of his uncle's ability.
Cut
With my eyes fixed on the Olympics, I didn't see George Groves' victory over Francisco Sierra in California over the weekend but I've heard that he put in an excellent performance.
George has been on the sidelines for a while with injury problems so it was nice to see him back in between the ropes and recording a sixth-round stoppage of his opponent.
Groves picked up a cut in the fight, as he did when he battled fellow Brit James DeGale in May of last year. That could be a problem for him, but good fighters have had gashes before - Alan Minter was plagued with them - and still had excellent careers.
George is a tough, young kid with great natural ability - and a great future.