Quit while ahead
Glenn McCrory believes Amir Khan should call time on a career he can be very proud of.
Last Updated: 17/07/12 3:05pm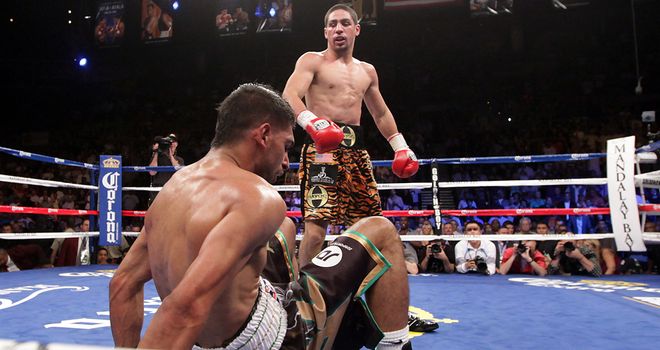 We saw Amir Khan suffer the second horrible knockout of his career as Danny Garcia strapped on the WBC and WBA light-welterweight belts following an unexpected victory in Las Vegas.
I think Amir should retire. Not out of any disparagement, not out of believing he's got nothing left, not out of thinking he couldn't be a force or couldn't get himself back - I'm one of those who's always been a big fan of Amir's.
I'm saying he should retire because at what point in boxing is enough is enough?
I would have retired when I won the world title. I fulfilled my ambition in 1999 and I was just 24 years old. That, to me, was it. I would have walked away then if I'd had a million pounds in the bank and been as happy as Larry.
Unfortunately, I got paid £7,500 for the world title fight so I had to go on for a bit longer. There's life after boxing and I'm not saying Amir Khan is shot in any way. I'm saying he should retire as the sensible option.
He's been there and done it. He's a two-time world champion and made millions. He's been a silver medalist at the Olympics. He's a good-looking, bright articulate kid with a fiancée and you just think, what more do you want?
Punishment
Khan is still burning full of ambition and the fight remains within him. I lost four out of five fights, was stopped in three of them and then went on to win a world title. Lennox Lewis got knocked out twice and still went on to have an illustrious career. So I'm not saying that it's not possible, but Khan's nature is to get in fights and when he gets knocked out, he takes big shots.
We saw him sparring with an amateur, taking punches. We know he spars with Manny Pacquiao and takes punches. Boxing is a serious, serious business and it's got to be handled with care.
Amir has so much going for him. I don't expect him to listen - my three-year-old girl doesn't listen to me unless I'm telling her to get the sweets out the cupboard, so I don't know why Amir would listen to me. I'm just saying that I retired around 25, found Sky Sports and have been doing that for the last 23 years.
What makes Amir Khan so exciting is also his undoing. He wants to have a fight and that's what makes him great to watch. The kid will take a gamble. The kid will have a fight and I, for one, love him for that. He goes where people daren't go and that's the sort of kid he is. But like I said, it's also his undoing.
I thought Khan's speed and punch power would be too much for Garcia. He did everything I thought he would and began really well, but when he landed the right hand like the one that knocked Dmitry Salita out, it didn't do anything. Garcia didn't even flinch.
It looked like the second coming, but let's face it - Garcia won a split decision over Kendall Holt, a split decision over Ashley Theophane, a decision over an ancient Erik Morales. But Amir Khan made Danny Garcia look like Sonny Liston in terms of power.
Khan got bullied by Lamont Peterson and sparked by Garcia - if you look at it with any logic, what on earth is he going to do if he decides to step up into the welterweight division?
Timing
He's got supposedly the greatest trainer in the world, the best fitness coach and the best nutritionist. I was over the moon when Amir reinvented himself after the defeat to Breidis Prescott and won the world title, but this defeat is different.
Ricky Hatton found his level with Mayweather and Pacquiao and they beat him convincingly. He did fantastically well and it was time to get out. He could have done more, he could have had more pay days - but why? Why take punches if you don't have to?
Amir Khan gets knocked out badly. Do you want to see him get hurt? Why would he risk everything he's got right now? He wants to win the light-welterweight title again - why? He should go and look in his trophy cabinet because he's already won it. He wants to win a welterweight title - why? It looks just the same as the light-welterweight one. So why? If it's just for money, if money's your God, then crack on.
Carl Froch, I know, likes Amir Khan very much. Carl is a sensible sort of kid and a fighter who cares about Amir because he knows what it's like. Some of the people who are saying 'Khan still has loads left and should fight on' aren't people who have boxed, so they don't get the headaches at night. People like Carl and I have taken hard punches and we know it hurts.
The big 'if'
If he goes on, the fight with domestic rival Kell Brook is the obvious one. If you want to go to welterweight, you've got Brook, who struggled a bit in his last fight so it's a perfect 'in.'
It would be make or break for both of them. Who's going to make it? It's the perfect time for it and it'd be a massive fight - in Sheffield or in Bolton in the autumn time. I'd want the best man to win. I think if Amir did come back and beat Kell convincingly, I'd be the first person to say I was wrong.
I like them both. I can't say enough that I think the world of Amir Khan, and that's why I think he should walk away.
He could do anything - be an ambassador... you know - take Johnny Nelson's job... I think Amir and I would make a great double act. Come to think of it, I'm really looking forward to seeing Amir in Johnny Nelson's seat because I'm sick of carrying Johnny...!