Brook on the brink
Kell Brook is on the brink of the big time but can't afford any slip-ups against Carson Jones, says Glenn McCrory.
Last Updated: 03/07/12 9:38am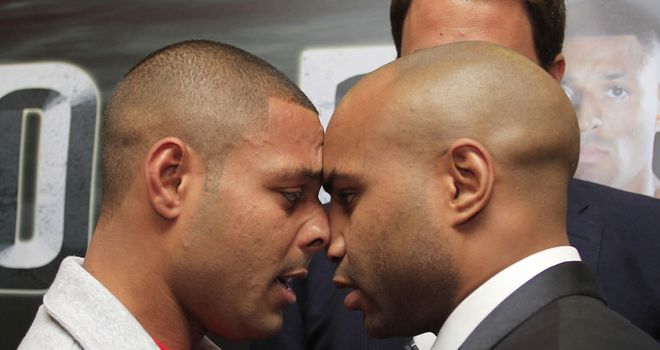 I go through airports most weeks, traveling to different fights and press conferences, and people always ask me where I am going and what I am up to. But when I am going to a big fight, they know. Straight away they ask me, who will win? What will happen? That's when I know it's a big fight: when everyone is talking about it.
And that's where Kell Brook needs to be, taking on the best opponents on the biggest stages where he has to put on a show every time he fights. That is the difference between being a good boxer and being a national superstar, the difference between being a name in British boxing and being a name in households around Britain. Brook is in line for all of that and has the chance to become a Hamed, Hatton or Eubank.
He is only a couple of fights away from challenging the top fighters in the fiercest division in boxing, where I believe he belongs, up at the Amir Khan level. First up, though, is Carson Jones this weekend.
The American has been making a lot of noise since arriving for the fight in Sheffield. He is clearly upset. He feels it has been the Kell Brook show so far, which it has. He is obviously clearly riled by this and will undoubtedly come out firing and ready to take risks, which will make for an exciting fight and could help the Brit. But Kell can't afford to be overconfident.
Gate-crash
Brook must not forget that this is a guy who is trying to take his head off and steal all his glory. This is another step up in opponent for him - an opponent that believes he can win and comes with credentials. It's a massive chance for Jones to put himself in the frame and gate-crashing the welterweight scene - the most exciting in world boxing.
The opening rounds will be crucial. Brook has to tread the line between retaining his composure and concentration with a tight defence but not being overly patient. He will have to be aggressive, that's a given, but he's got to be careful as well. I would like to see a little more devil and spite from him early on, especially using his jab.
Advantage
Brook must let Jones know straight away that he is the away fighter because Jones is the kind of fighter that could make this a really bad night for the Brit. Brook must be at his very best. He is now moving up into a new league now, into the big picture where people are starting to take notice. It is really important to make this his show and a great occasion and take it back to the Hamed, Eubank and Hatton days, when we had somebody who was going to get the whole country behind them.
Some fighters love being at home, while for others it just means pressure. He is quite a shy kid but he likes it now, he likes having his fans, having Sheffield, behind him. He is a very personable kid and he is enjoying that limelight.
Weaknesses
The crazy thing is that we haven't seen any weaknesses yet. He has been well managed, as you would expect, but he has gone this far through his career and we don't even know what his weaknesses are. Matthew Hatton was his best opponent and yet it was pretty easy going for Brook. Hatton hardly asked him any questions - there was one significant punch when Brook was more embarrassed and surprise than anything else. In what should have been a stern test, he glided through. So Kell Brook can be as good as he wants to be, and that could be very good indeed.
He needs to get through this fight and then they need to pick a top five fighter and go in and beat them well. There are only one or two fights of this standard left and then every fight will be life or death. After this fight and one more he will be at the Amir Khan level, every fight. I think he can reach that level and go beyond. There are not many fighters that get to where Brook has and not been gone out of second gear. So far he has been on auto-pilot and I want to see him in top gear.
So there is a lot for Kell to lose and he is under a lot of pressure but I think he is the kind of kid that will thrive on that. I am really excited about the future of Kell Brook.