A waiting game
Glenn McCrory reflects on the Quigg-Munroe draw and shares his memories of Teofilo Stevenson.
Last Updated: 19/06/12 12:48pm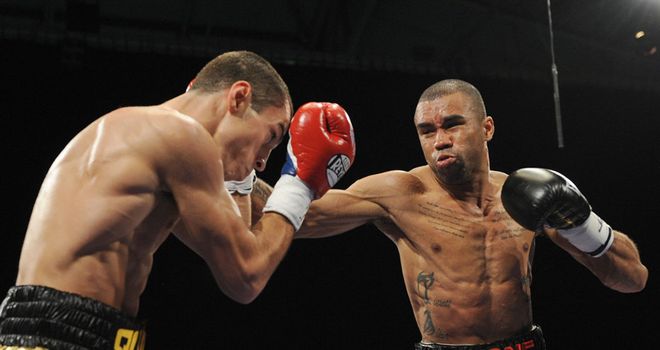 There was a sense of disappointment at the weekend when the highly anticipated domestic super-bantamweight dust-up between rising talent Scott Quigg and world title challenger Rendall Munroe ended with a technical draw due to a third-round clash of heads opening a cut on the latter's eyebrow.
I thought it would be an excellent fight and it was one that we were all looking forward to so it's a shame what happened.
Going into the fight, although I'm very fond of Quigg who's a lovely kid with good talent and lots of potential, I thought they were kind of underestimating Munroe saying that he'd had his time.
Munroe lost one fight for a title to Toshiaki Nishioka and that was on points in Japan. It's the only time Munroe's been beaten in the last six years and there's nothing whatsoever wrong with that record.
He hasn't shown any deterioration - he was pipped in Japan by the best in the world. There've been a few average performances since but once you've boxed at European and world level, it's difficult to get yourself up for little fights. You need to be in big ones.
As far as Quigg is concerned, Joe Gallagher is trying to get him on the Amir Khan v Danny Garcia bill but that would be very early on in the evening with very few people there. It'd just be for the experience of going abroad, more than anything. They wouldn't put him in with anybody dangerous, I don't think.
Quigg got stuck on the floor by Jamie Arthur last time out, and Arthur is a relatively tame opponent who hadn't done anything for a while. The eventual stoppage was very premature - Arthur sort of span around as a reaction to a body shot.
People were very worried about the cut Munroe suffered, but I spoke to his trainer Jason Shinfield afterwards and he said that the doctor said it only took nine stitches. Apparently, it wasn't actually too deep a cut - it was just very long and in a bad place.
I saw Rendall after the fight. I was in the dressing room and he was in good spirits. His eye was all nicely dressed up and they reckon it's going to be about four weeks before he can spar again, so it's not like they're in any fear over Rendall's career.
I for one thought that Rendall would win the fight because I thought it was coming too soon for Quigg. I think Quigg needed a couple more tough tests before facing someone like that. Ideally for me, the fight would've been Quigg v Carl Frampton and the winner would have fought Munroe.
I was with Frampton in the hotel afterwards and spent the evening talking to him before going back to Belfast with him. We had a really good chat over a night and morning and I'm much more convinced he's going to do really well after getting to know him personally and seeing what he's like.
I can tell a lot more about a fighter outside the ring than I can from seeing him in the gym. Skills can be learned but it's personality and attitude that really make a fighter.
We'll look forward to the Quigg v Munroe rematch when it happens. All the anticipation will carry over and it will spur Munroe on even more that this cut delayed him in his attempt to silence those that underestimated him.
Tribute to Teo
It was very sad to learn that arguably the greatest amateur boxer of all time, Cuban hero Teofilo Stevenson, passed away last week.
Personally, Teofilo Stevenson was my friend. I've sent my best wishes to his wife and his kids. I was on the phone to him four weeks ago and I'd ring him up from time to time.
He was ill with a liver problem and I was phoning up to see how he was. He sounded in great spirits and he was getting back on his feet and moving about. He was telling me: "Glenn I love you for remembering me." I told him: "I'm not going to forget you Teo, you're the greatest amateur of all time!"
I've got some great memories of Teo and I'll share one with you now.
I took one of my best mates, John Gibson, who writes for The Chronicle, over to meet Teo once and he won Regional Sports Writer of the Year for this story without even mentioning the fact that there was a gun involved! It sounds violent, but it's not - Teo was a friend and it was all just showing off and joking around.
John was desperate to get a sit-down interview with him and I was doubtful whether that was possible because Teo's English was not great and I thought it was more realistic to have a bit more of an informal chat, look at some of Teo's pictures etc and just get a bit of 'colour.'
So there we are in Cuba, sitting down to breakfast and I get a call from Teo saying: "Glenn. I need you. Come to my house." So it looked like John had his stroke of luck and was going to get his interview.
He sounded a little bit funny. It was 9.30 in the morning. Anyway, we went to his place - it was a modest bungalow with a pool in back with no water in (just weeds) and a small car. We pulled up and knocked on the door and this towering frame came to answer it, naked apart from a little pink towel that seemed the size of a flannel!
He invited us in and John has gone quiet by this stage. Teo goes upstairs and comes back down in his tracksuit bottoms and a massive big silver gun - a .45 that Fidel Castro himself had given him as a present!
Teo was saying: "Come on John. Let's go outside. I show you my gun." John still hasn't said one word. So we go outside in the back and Teo's waving the gun around. He's a little inebriated and I'm asking him to calm down because him waving a gun around was the last thing we needed!
I'm telling him: "Teo, let's go for some breakfast. I'll take you for some food." But he's sticking the gun in John's face at this point and carrying on so I grab his arm and pull the gun towards my face, because I'm his friend and I'm telling him to stop playing around.
Teo reacted by pulling the gun back, kicked open the chamber, pulled the cartridge out, put it back in to show it was fully loaded and stuck it back at my head... at which point I took hold of his hand and pointed it back at John's head! I didn't get a laugh off either of them. John was as white as a sheet though.
To cut a long story short, Teo wanted us to go with him to see a friend. So when we get there he's telling me: "Go on Glenn, after you." I'm saying: "No, no Teo - you go first. Go on son, get up those steps!"
The minute he's up the steps I said to John 'Run!' and we were like two Usain Bolts flying down the road. We sprinted away from there as fast as we could and a 72-year-old beat me by about 10 yards! That was my last memory of Teo...
John, who got an award for that article, never said one word from the moment we met Teo until after we'd run away from him. He never spoke. He was just white the whole time.
He didn't realise that was just Teo showing off and joking around with a friend!
Fight for the Prize
We've got a midweek treat this week with the Prizefighter International Heavyweights on Wednesday night, and it promises to be a night of no-frills entertainment.
You've got Kevin Johnson, who's kind of a second-rate top fighter and I'd make him a marginal favourite but it's always important to realise that Prizefighter is not normal boxing.
It's a different sort of competition and if you were a manager you'd have to think very wisely about putting in any sort of hot prospect. It's a whole different format - we've seen surprises, we've seen daft knockouts and we've seen unbeaten records spoiled.
If a guy's going into a 12-round fight, he's got to think about the distance and he's got to use tactics. There's a lot more that comes into it and if he's up against a puncher, he may want to be defensive for the first few rounds and try and draw the sting out of his opponent.
You can't afford to do that in Prizefighter. It's just three rounds so if you're in against a puncher then you have to go out and try and get him before he gets you. Chances are you're going to get knocked out.
With the heavyweights in Prizefighter, it's the best division for the competition because it guarantees excitement. They're heavier hitters and they run out of steam because they don't have the stamina to last three fights. Their hands come down and it becomes great entertainment.
Prizefighter is something different. Put it this way, I don't read very much into any Prizefighter statistics.