Daylight robbery
Manny Pacquiao was let down by the judges against Timothy Bradley, says Glenn McCrory.
Last Updated: 21/06/12 1:04pm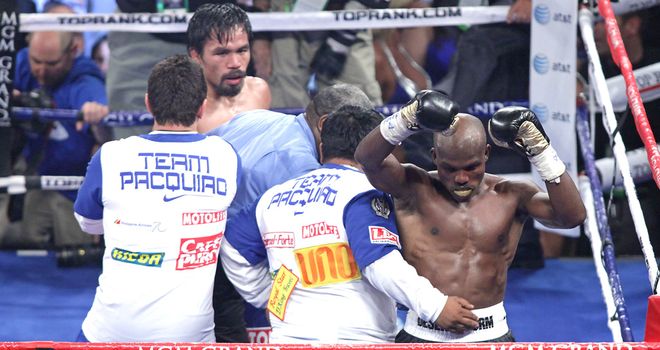 Fight fans were left aghast this weekend as Manny Pacquiao lost a split decision and his WBO welterweight title to Timothy Bradley in Las Vegas. It was a terrible decision. It beggars belief that they can do this.
It was a very good fight but so often, particularly in big-money fights in Vegas, the result just leaves a sour taste in the mouth.
That two of the judges could see it so wrong is unbelievable. I've read that every single boxing writer ringside thought Pacquiao was a clear winner. At points early on, he looked he was going to stop Bradley.
Bradley had a good first round and looked like he was going to be a bit of a menace but then Pacquiao started putting together his combinations, started rocking him and Bradley's legs started to go.
Bradley did well to hang in and well to make a decent comeback towards the end of the fight to make it entertaining throughout, but it never ever looked in any way whatsoever that he was going to be the winner.
Payback?
You could say that Pacquiao didn't deserve to beat Juan Manuel Marquez last time and it's almost like they were saying: 'It's payback time and you're not getting this one' - but that shouldn't ever happen.
It was a good fight ended with a bad decision. It wasn't a case of I-thought-this and maybe-this-and-maybe-that - Pacquiao was a clear winner.
I've been working with Sky Sports for 23 years and judging fights on a weekly basis. My score goes out to the world so I've probably judged more fights publicly than the vast majority of judges, and I had Pacquiao by four rounds. I thought it was comfortable, even with the good finish from Bradley.
Judges are human beings. A lot of people would spend the first four or five rounds just looking at Pacquiao. Amir Khan and Wayne McCullough were on as commentators and they had Bradley getting ready to fall apart a few rounds in. I saw Bradley getting beaten, but what I'm saying is they had they were just focused on Pacquiao.
People weren't looking at Bradley so much - they didn't see that he was strong, was taking the shots and was fighting back. It's easy to get carried away by reputation and all the rest of it, and I don't know whether that played a part if the judges disagreed with the Pacquiao-Marquez decision.
Timing
I've always said that Pacquiao's seemingly inevitable fight with Floyd Mayweather will happen only when Mayweather wants it to happen.
Pacquiao is not the Pacquiao of a few years ago - he's not that Pacquiao who annihilated Oscar De La Hoya and Ricky Hatton. That's not the man that's around any more, and Mayweather will want that name 'Pacquiao' on his list of foes.
What he's best at, Mayweather, is picking the right time to face his opponents. He's a winner. I'd never put Mayweather in top 10 fighters of all time, even though the names on his record deserve that - simply because he's such a calculated fighter. He doesn't fight for the public or for spectacular fights. He fights to win and make lots of money.
I think what we'll see is a Pacquiao-Bradley rematch in November. I think they're already looking at a date in November. I think Pacquiao will get the just victory then, and then he'll fight Mayweather in the new year.
Pacquiao will quickly secure a return against Bradley because Bob Arum promotes both fighters. Arum thought Pacquiao had easily won and even Bradley's people thought their man had lost, so that fight will be made to happen. I would have thought that it was in the contract anyhow.
Pacquiao just beat Bradley. He didn't get the decision but he beat him and he'll beat him again. We'll probably find that the Mayweather fight is already made by the time Mayweather gets out of prison.
In some ways, it's a shame for the public because they wanted this fight 12 months ago. It'll be great anyhow but in a way it's a pity that they're not going to be in their prime. Having said that, Pacquiao might put on a devastating display against Bradley second time around and then we'll be getting ready for a super-fight.
The world knows Pacquiao won that fight. The world knows Pacquiao isn't at his best at the moment and Mayweather will know that too. Whatever happens, that's still the big-money fight out there.