Return of the King
Glenn McCrory assesses Amir Khan's decision to face Danny Garcia following the Lamont Peterson saga.
Last Updated: 04/06/12 2:27pm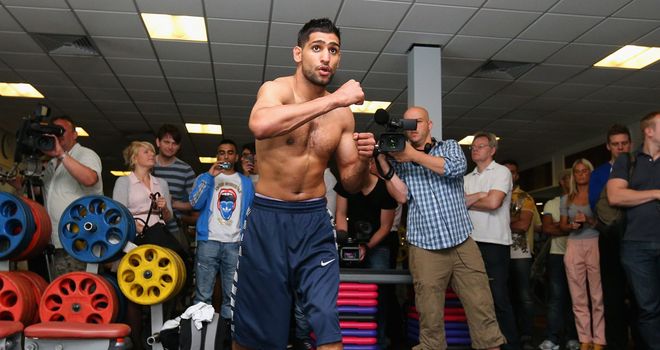 Amir Khan has opted to face powerful WBC light-welterweight champion Danny Garcia in Last Vegas on July 14 - and it could prove a masterstroke by the Bolton boxer.
The man who relieved Khan of his WBA and IBF light-welterweight titles, Lamont Peterson, was forced to withdraw from the scheduled rematch amid accusations of drug abuse, and Garcia has stepped up to the plate with a belt of his own.
Garcia's defence is not good. He's tough, he's got skills and he showed he's got a heart against Erik Morales - but in Morales, you're talking about a guy who was plying his trade as the best in the world 10 years ago.
For me, it's a great fight for Khan. It's a fight where his boxing skills can come to the fore and he can really show his class. He's got so much to prove after the Peterson mess and he really wants to show that he's a level apart.
He wants to show the world that it doesn't pay to cheat and what you can do with hard work and dedication. It'll be a great occasion - but it's far from an easy fight.
This is what we want to see. British fighters like Carl Froch and Khan fighting top-quality, world-level opponents in big fights and this is what you've got here. It's a big, big fight.
The fact that Khan loves to fight is what makes him box office. He's shown that he can box and shown that he can win by a wide points margin, but he's a fighter that wants to win via stoppage and he wants to entertain.
Garcia is the perfect opponent to make a really entertaining fight and I think the best Amir Khan is what we're going to see. The best Amir Khan will win the fight.
Khan has got much better balance these days. He's learned to plant his legs so that when he gets hit on the chin, there's stability there.
He still gets hurt as everybody gets hurt, but he's thickened up his neck and his legs and shows better balance. Technically, he's better prepared to take a punch.
I'd love to see Khan fight a checked-out Peterson. We don't know if Peterson was taking anything when they fought for the first time, but I would like to see Khan get his opportunity to fight when we know 100 per that it's an equal game.
More than anything else, I think that should happen. It would be a little lesson. Peterson deserves the right to clear his name and we've got to presume he tested negative before and after the Washington fight, but if someone's been wronged then you want that wrong made right and you want the world watching.
Pac-Man
Before the Khan bout, there is another huge clash when Manny Pacquiao defends his WBO welterweight title against WBO light-welterweight king Timothy Bradley on Saturday.
We're seeing cracks in the whole Pacquiao character now. It'll be interesting to see what happens in that one because if it's a tough fight and Mayweather gets out of jail, then we may well finally see Pacquiao v Mayweather.
The world's looking at Pacquiao to see if this brilliant story, this wonderful boxing legend is coming to an end. You've got to commend him again for going in with someone as big, strong and talented as Bradley.
This is Bradley's massive opportunity. If he beats Pacquiao, there's another massive fight around the corner in Mayweather. If he beats Pacquiao, he's made. He's a multi-multi millionnaire.
But there's so much expected of Pacquiao. It's pressure that he's put on himself by wanting to represent his people. I think he's done great in giving the people a positive role model - I think that's enough and he doesn't need to try and save the world.
Tragedy
Elsewhere, it's been a sad time for boxing. Paul Williams' motorbike crash, which has left him paralysed from the waist down, is very sad. It's just such a shame.
There was Johnny Tapia's death, too. He pushed it to the limit and a man shouldn't have to go through what he went through as a child. People say he did well to last as long as he did with the horrors he saw. No person should ever had to endure that.
Boxing's had its burdens recently and they've been tough and they've been sad, they've been controversial and upsetting. These amazing characters that live by the sword and die by the sword. The sad nights go hand in hand with the great nights - that's life.
In terms of the domestic heavyweight scene, Audley Harrison touting himself as a David Price opponent is interesting.
It's a desperate measure from Audley to make some money and keep his name in the headlines, but unfortunately he's always been in the headlines for the wrong reasons - getting beaten and failing to fulfil his potential.
The only thing he has going for him is that he is a name. You don't see many boxers on Strictly Come Dancing but you saw Audley on there. He's a name because he won the Olympic gold medal live on TV in front of the world.
I think he's possibly a good opponent for David Price because Audley's tall, did better than Price as an amateur and Price still has to prove stuff. He could jump in with a Klistchko but ideally, if he can get a few different styles first, then all well and good.
It would put him more in the public eye so I wouldn't rule that fight out and I certainly wouldn't knock it.