The greatest Briton?
Is three-time world champion Carl Froch the best British boxer in history? Glenn McCrory investigates.
Last Updated: 28/05/12 4:35pm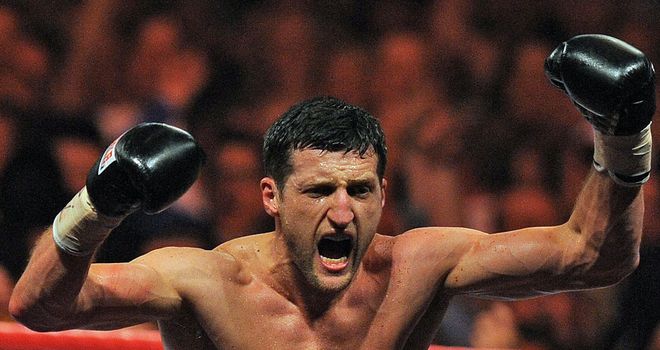 Carl Froch can lay serious claim to being the greatest British boxer of all time.
There are guys like former middleweight, Randy Turpin, who had to beat some of the best fighters to walk God's earth, while in modern terms you'd also look at the trio of Lennox Lewis, Ricky Hatton and Joe Calzaghe.
However, Lewis was knocked out twice by average fighters in Hasim Rahman and Oliver McCall, Hatton was obliterated when he went toe-to-toe with Manny Pacquiao and Floyd Mayweather, while Calzaghe was very well looked after and his record was padded out with the Tocker Pudwills of this world.
Carl, on the other hand, has generated excellent results against some of the leading lights of the super-middleweight division, and I don't think anyone has fought so many top-ranked fighters consecutively and been as fearless and hard-as-nails as he has.
If Froch is not the best boxer to ever emanate from these shores, he's not far off it.
Effective
The Cobra put in a glowing performance on Saturday night to dismantle Lucian Bute in the fifth-round and become a three-time world champion.
Froch does not look anything special; he is not the slickest, not the most talented, and doesn't do anything greater than anybody else. He's not Sugar Ray Leonard or Marvin Hagler - but he is damn effective.
He is also superbly fit and is still as teak-tough as he has ever been; he takes so much care of his body. For 20 years he has trained all the time, kept the weight off and been in peak condition, and that was evident against Bute.
But perhaps Carl's greatest strength is his unwavering belief in himself. We had a phone conversation recently and he told me he knew he was going be beat Bute, even though some people thought he would be up against it following his loss to Andre Ward in December.
He certainly proved his doubters wrong.
Raucous
Carl has said he would like to face Ward again and I think he would do a lot better in a rematch with the American, whose mental toughness he perhaps underestimated in the Super Six Final.
If that match was in Nottingham who knows what effect a raucous crowd could have, but I just feel that he would come up short against the super-skilful Ward. That shouldn't stop Carl going for it, though, as it would be a big-money fight.
The next step for Froch is to seemingly try and avenge his defeat to Mikkel Kessler from 2010, and I would certainly back him to do that; Kessler is a good fighter but he's not a great one.
When he lost to Kessler before, Carl had a lot of things going on in his life. His wife was pregnant with their son, Rocco, and as he loves his family so much maybe he wanted to be at home and not focus on boxing.
I don't envisage him being so forgiving should he tackle the Dane again.
Clause
There are some promising super-middleweights in Britain, such as George Groves and James DeGale, but I can't see Carl hanging around to fight them. He'll probably be looking at Kessler, Ward and then to go out at the top.
However, Bute still has a rematch clause in his contract and I hope we get to see him and Froch square off for a second time.
Bute looked surprisingly weak in Nottingham but he has shown previously that he has the ability to respond. The 32-year-old was floored by Librado Andrade in the 12th round of their match in October 2008, but managed to knock his opponent out in the return bout a year later to secure a much more convincing win.
I think there is more to Bute than we saw against Carl and I suspect he would do a lot better if they met again in Canada. That would be a much tougher proposition for Froch - but I think we all know better than to write him off.