Opportunity rocks
Glenn McCrory blogs on David Price's development and his chinwag with the Klitschko brothers.
Last Updated: 23/05/12 11:14am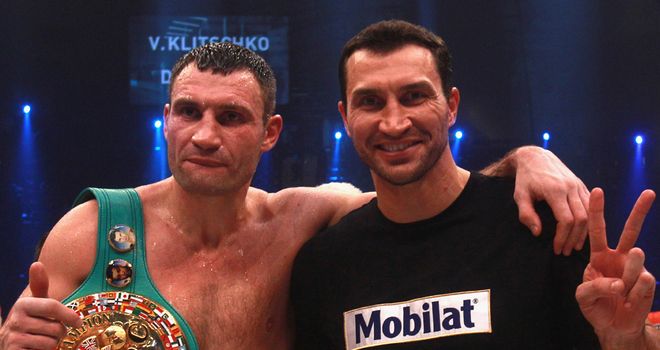 Some people have their careers mapped out and each step strategically planned, but I'm from the school of thought that you get one chance and you've got to grab it.
So if David Price was given the opportunity to fight a Klitschko brother in the near future, I would tell him to take it with both hands.
If he turned down a fight with Vitali and then get knocked out by some big old heavyweight, he could see his dreams of a world title shattered and his destiny changed.
There is always a chance that Price could lose heavily to Vitali or Wladimir, but what would set him back more, getting beaten by a Klitschko, or getting beaten by Tony Thompson or Chris Arreola?
Everybody gets beaten up by the Klitschkos. If that happened, it wouldn't harm him and he could come again. He might not get the opportunity if he was floored by a journeyman.
Outclassed
Price hasn't been let loose with a European yet, but he has sparred with European champion, Kubrat Pulev, and didn't come out with any bruises or anything like that, so I think he could handle him - and he is certainly the best heavyweight domestically.
The Liverpudlian showed that by knocking out John McDermott in 73 seconds in January and again last Saturday when he totally outclassed Sam Sexton to secure a fourth-round stoppage.
Admittedly, there is a big jump to the Klitschkos, but his work has been extremely promising so far. McDermott landed one wild punch that Price didn't even seem to acknowledge, while Sexton, who is a solid fighter, didn't even hit him once.
Price made some mistakes in the amateurs and paid for them, such as when he was stopped by Roberto Cammarelle, in the 2008 Beijing Olympics, but he been spot on in the pro ranks and at 28, he is only a boy in heavyweight terms; there is plenty more to come.
The city of Liverpool is just cottoning on to him but before long he will be someone that the British public are going to follow like Henry Cooper. He will be a national treasure.
Stranglehold
Price is a humble young man and he only has to look at the Klitschkos to know that you can be like that and make it to the pinnacle of the sport.
I had the opportunity to speak to both Vitali and Wladimir on Monday night and it was an honour to do so; they were tremendously nice, normal guys and terrific fun, too.
It will be a sad day when they retire as they have achieved so much.
They may not be Joe Frazier or Muhammad Ali and they are not the most exciting in the ring but they, along with Lennox Lewis, have taken the stranglehold on heavyweight boxing away from the United States.
I have a good insight into the Klitschko camp, as I'm friends with their manager, Bernd Boente, and I have been told Vitali doesn't have many fights left before he calls it quits.
Wladimir, however, is still very enthusiastic, very fit and has the fire in his belly to go on for a while yet. He could get the chance to win all of the heavyweight belts when Vitali retires, which would be terrific because he is head and shoulders above everyone else.
I would love to him or Vitali lock horns with Price and the Briton is an opponent that is definitely on their radar. They admire Price and believe he is a lot like them; tall, can box, sensible, intelligent and personable.
Let's hope that respect can lead to a fight being made.