A boxing disgrace
Glenn McCrory says David Haye's fight with Dereck Chisora will bring British boxing into disrepute.
Last Updated: 18/05/12 5:21pm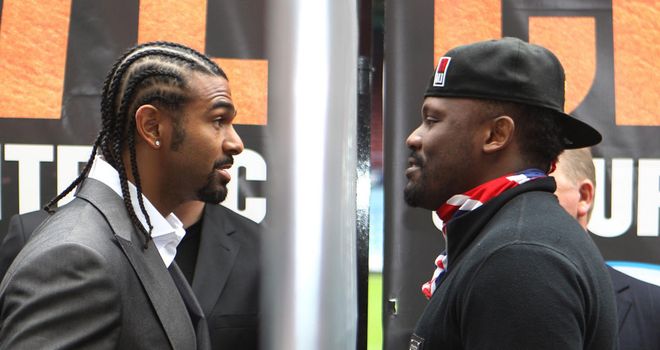 Glenn McCrory believes that the fight between David Haye and Dereck Chisora will bring nothing but disrepute to British boxing.
The Sky Sports boxing expert was unimpressed by the decision of the two British fighters to announce a bout at Upton Park on July 14, which has been sanctioned by the Luxembourg Boxing Federation.
The two heavyweights famously brawled at a press conference in Munich in February after Chisora had lost a world-title fight with WBC champion Vitali Klitschko.
And Glenn told Sky Sports News that they should not be able to settle their differences in a boxing ring...
I am very disappointed that the whole affair is coming up again.
I would have liked to have seen David Haye and Dereck Chisora apologise and be a bit humble about what happened in Germany
Instead it has been promoted into a fight when neither one of them holds a licence. I hope that the Boxing Board of Control will have something to say about this.
It brings the whole sport of boxing into disrepute and the message it send out is that it is okay to do what you want.
You can get a licence in other countries but they are still talking about the fight taking place in this country. You would think that if that was the case then you would have to have British officials involved. I will be interested to see what the British Boxing Board of Control will say about that.
I have nothing against the guys having a fight - there have been worse things that have happened in the past - people like Mike Tyson got his licence after being in jail.
We do know that people can make mistakes and make poor choices. There should be forgiveness and second chances to allow people to put their careers back on track - that is what I would have liked to have seen, not promote what was a disaster in Germany.
This is just a disregard for the rules - you have got to have rules in boxing. It is the noble art and I and so many people love it. This is also the Olympic year and we should be flying the flag for world sport.
We want to see things done right and see everything done with pride. Anything that is condoning a bar room brawl is not flying the flag for British sport.
The last time these two came together it was with some legs of a camera and a bottle. That was a disgrace. I would like to see them both get their careers back on track but it is no good doing it this way
I would have loved to have seen Dereck Chisora get his licence back by visiting some youth clubs and just showing some remorse for what he did - the same for David Haye.
I know them both and they have always been great with me and I wish them both the best for the future but they have to do things the right way. Going round the houses is never good.