Facing the Chop
Glenn McCrory analyses Paul McCloskey's decision to face veteran DeMarcus Corley on May 5.
Last Updated: 22/04/12 8:53am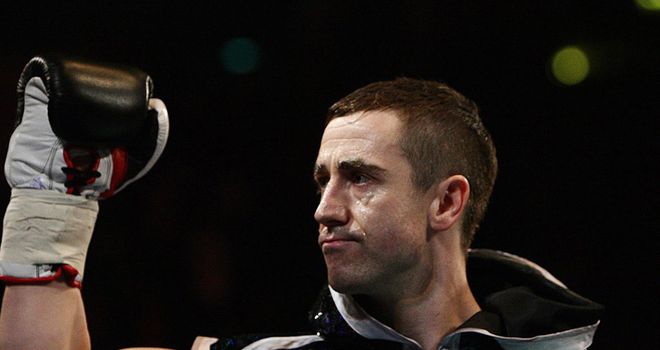 Paul McCloskey will face DeMarcus Corley (38-19-1) in Belfast on May 5 after original opponent Julio Diaz pulled out amid concerns he would fail to make the light-welterweight limit.
'Dudey,' 32, was last seen in September 2011 when he edged a points decision over Amir Khan conqueror Breidis Prescott - the Irishman's first fight since losing a technical decision to Khan earlier that year. He has been openly chasing a rematch ever since.
Corley, known as 'Chop Chop,' has lost five times since losing to Marcos Maidana in 2010, but remains a challenge. He's lost to decent fighters with winning records but what McCloskey's people are after is a tough-enough fight.
Corley is coming off a win over an 18-0 prospect in Gabriel Bracero, so even at the grand old age of 37 he's a danger because he knows the game and is a good fighter.
McCloskey is trying to get experience in a tough division. It's really one of the best with people like Khan, Bradley, Peterson; even in the bottom end with people like Maidana, they're all tough fights throughout the division.
In Corley, the McCloskey camp is looking for someone who they can use to gain experience before they go into the tougher fights because the whole of the top 10 is tough.
I think what he's angling to do is to get the biggest fight they can, but I don't think he's on Khan's radar at the moment because he's got a big, big task with Lamont Peterson on his hands and who knows how that one will turn out.
Message
Corley is pretty hard to stop. If McCloskey stopped him, that would be throwing out an impressive signal and he wants to make a name and get on with a big fighter.
I'm sure he'd love to fight the winner of the Khan-Peterson fight. I was ringside when McCloskey lost to Khan and I thought he was unlucky. He wasn't really making an impact but he wasn't really being outclassed and was holding his own. I think he put up a good performance and that shows his quality.
People are talking about him going on to face Juan Manuel Marquez if he impresses... but is Juan Manuel Marquez a good idea for anybody?! He's just shown by going in against Manny Pacquiao that he's still up there and top drawer.
He's one of those great, great fighters who will go down in history and it's a name you need to pick at the perfect time and I'm not sure that it's the right time for McCloskey to go in with him.
Problems
It was disappointing to hear that George Groves has had to pull out of his WBO super-middleweight title shot at Robert Stieglitz, which had been scheduled for the same night in Germany.
It's another unspecified injury but George Groves has had trouble with his hands in the past. It's not good. He is young so there's plenty of time for him but that's a problem when fights are getting continually cancelled through injury.
He's very well managed. For me though, the jury is still out with Groves. I haven't seen what I want to see from him yet to suggest that he could be the best in the world.
He drops his hands too much. In the past, he's looked like he can't decide whether he wants to be a boxer or whether he wants to be a fighter. He beat James DeGale but I thought DeGale had just nicked it.
I don't think anyone can doubt Groves' temperament because I think he's a real fighting type. He's done well in his career and you want to see him get a title shot one day, which I'm sure he would because on his day you'd fancy him against most fighters - but I still think he needs a good few more fights first.
I wouldn't be in a massive hurry to put him in with the best super-middleweights in the world because they're a good bunch - you've got the likes of Lucian Bute, Carl Froch, Andre Ward, Andre Dirrell, Mikkel Kessler and Kelly Pavlik. Robert Stieglitz was the least of them and he's still 41-2-0!
You wonder if he feels he's ready. There's some problem there. It's not ideal for fights to keep getting cancelled so something's not quite right. It'd be interesting to find out what that is. Maybe they were rushing to get him in - confidence has never been an issue with that camp - and then realised they weren't quite ready.
Bizarre
I watched Tyson Fury's Irish heavyweight title victory over Martin Rogan last weekend and it was a strange bout.
Fury boxed southpaw and I don't quite know what that was all about. You can get away with that sort of thing against Martin Rogan but you're not going to get away with it at the top.
His uncle has come in and trained him to switch to southpaw and beat Rogan, but he was always going to beat Rogan - it didn't tell us anything.
My big thing is that they're always going on about him being the former British & Commonwealth champion but he vacated the title. They can go on ignoring him and pretending that David Price doesn't exist, but Price beat Fury in the amateurs and is looking very good.
I didn't see any great improvement in Fury. The southpaw stance didn't seem to enhance him and I still see faults. Nobody's going to believe in Tyson Fury until he fights David Price.
Fury gave up all his titles rather than fight Price. I think the reasoning is that the Klitschkos are running out of opponents. They want to keep fighting so they want new opponents. They've dominated the division for years and Fury's management might be thinking of fiddling about and getting themselves a big world title shot with one of them.
They saw what David Haye did and they want that same chance, but you can't go on talking about you being the best in the world unless you beat a fighter that is right in front of you, who has thrown out challenges to you and has beaten you in the amateurs. The public aren't stupid - they know.