Setback for Mac
Glenn McCrory analyses the effects of the postponement of Tony Bellew's clash with Danny McIntosh.
Last Updated: 10/04/12 1:54pm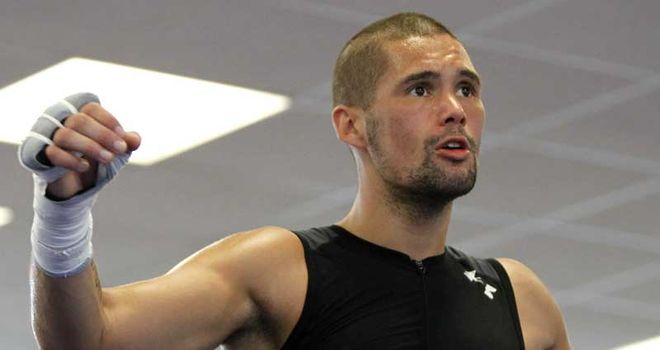 Danny McIntosh was forced to delay his challenge for Tony Bellew's British light-heavyweight titles until 27 April due to a chest infection - and it will be interesting to see how both men react.
The two-week delay is the same for both of them in a way, but if anything it will affect Danny McIntosh seeing as he's the one battling illness. He's probably tried to get on without the delay, tried to train through it and hoping that it'll be okay but then it's got so bad he can't do it.
Tony Bellew will probably take a couple of days off and then get straight back into it. If there is a problem, it'll be for McIntosh. The job was always going to be a tough one for him and now it's going to be extra tough.
Everything's so much harder if you've had an illness or an injury. The game is about mental toughness as well as physical toughness and you've got to be able to put stuff like that out of your mind. The good fighters always can - remember Sugar Ray Leonard coming back to beat Marvin Hagler. What must have been in his mind when he'd seen Hagler destroy so many people?
Battle
It has all the makings of a very good fight. It's a good clash of styles. There's an air of vulnerability about Tony Bellew because we know he can be hurt - we saw it against Ovill McKenzie. He also got beaten by Nathan Cleverly.
He was very confident ahead of the Cleverly fight and I don't think he lost too much confidence from that fight. Sometimes fighters think they're invincible. Bellew had that and I think he genuinely believed he was going to beat Cleverly. He didn't get the decision but he equipped himself well.
This is a very good domestic clash and I see them as two gunslingers. They're both just going to let rip. Bellew's going to feel like he's far superior to McIntosh because he's always had that confidence - but I think it makes him vulnerable.
Bellew v Cleverly was a good money spinner and promoters are always interested in fights that sell so I can Bellew getting his rematch with Cleverley if he impresses against McIntosh. If they can get more experience for Cleverly without stretching him too much - going over old ground for a big pay day - then it's common sense.
Glenn's prediction: I'm looking for a late stoppage for Bellew.
Crolla v Matthews
Before the Bellew-McIntosh, there's another British title clash a week earlier when Anthony Crolla defends his lightweight belt against the challenge of Derry Matthews.
Anthony Crolla is the type of fighter that I can see doing something. Obviously at world level it's a big jump up when you get amongst the Mexicans and the world-class fighters.
Before he fought Willy Limond, Crolla had been linked with a fight with Erik Morales. However exaggerated a leap like that seems, if you've got passion and desire and you work really hard, you can bridge that gap.
Committed
Crolla is trained by Joe Gallagher, who's doing a fine job. I don't see anybody working as hard as him in the gym. I've been down there and it's busier than Tesco's! They're in and out all the time, so it's great because success breeds success.
Gallagher has produced good scrappers but hasn't really done it at the top level yet. They're not the refined type but I'm hoping that will come in time. I think Crolla is a very good fighter with good prospects.
Matthews, on the other hand, has been a very good fighter who has resurrected himself again. He's got a lot of experience and is game, but I just see Crolla having too much for him.
It's an excellent, exciting division domestically. There are people like Kevin Mitchell out there. If I had one criticism of Joe Gallagher, it's that at times he can be too careful. It's all very well looking after your fighters but it seems that there's a policy of several careful matches and then in at the deep end.
You can't expect somebody to be well matched and then suddenly throw them in because they're not prepared. It's a tough game and you have to be prepared when you take a gamble.
Someone like Michael Katsidis is always capable of pulling off the upset but he is ageing and those are the sort of names they need. Crolla will need names, guys that have experience and will give him a fight. Gallagher needs to give his men tougher matches before he pitches them in at world title level.
Against Matthews, I think Crolla will have too much youth and exuberance. It's his time. Matthews has been there before but I think it's a step too far against a hungry young fighter.
Glenn's prediction: Crolla by stoppage in middle rounds.