Way to go, Dynamo
Glenn McCrory looks at Gary Buckland's big win and pays tribute to late, great boxing writer Bert Sugar.
Last Updated: 06/04/12 12:53pm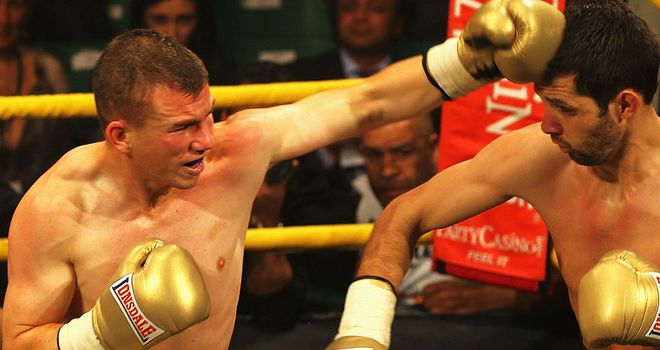 You couldn't help but be impressed by Gary Buckland's performance on Saturday night.
The British super-featherweight champion went out with a very positive attitude and took the fight to his challenger Paul Truscott. 'Dynamo' maintained a terrific pace throughout the contest and pretty much dominated from start to finish.
The Welshman also showed great concentration as a lesser fighter would have rested on his laurels against an opponent who showed such a lack of devilment.
It was really important for Truscott to make a brisk start, get to the centre of the ring and stamp his authority on Buckland but he wasn't able to do that.
Truscott hasn't had things easy in his career and the big fights that he perhaps deserved haven't really come his way. Having been granted this opportunity against Buckland, he really had to seize the moment; he almost had to make it like Custer's Last Stand.
Yet at know point during the fight did he seem to go the extra mile or prove his mettle.
He's got a good chin, he knows how to hang in there, and he knows how to box, but if he had been pulled before the 12th round I think he would have been glad.
Buckland's promoter, Ricky Hatton, says he would like his man to face Stephen Foster next, and that fight could be a whole different kettle of fish to the Truscott one.
Foster has had had a long career and experienced losses, but he has come back when it didn't look like he was going to.
I don't know how much the 31-year-old - who lost his European title to Ermano Fegatilli last year - has left in the tank, but he is mentally stronger than Truscott.
Buckland, meanwhile, will wear down an awful lot of fighters and I can see him getting to European level and beating guys like Fegatilli. I just don't think he has the all-round ability to go beyond that.
Underrated
Gavin Rees was victorious in Paris on Friday night, defending his European lightweight strap against Anthony Mezaache.
The good thing about Gavin is that he is extremely underrated; he is short and not particularly muscular and people think he will be easy to negotiate.
But he really knows how to use his small stature and reach and has gained an awful lot of experience. He is a very hard kid to move when he gets himself into a fight and has held his own with, and beaten, some very good boxers.
Rees has held a world title before, albeit at light-welterweight, and if he gets an opportunity at that level again he could shock someone.
I was also saddened to hear about the death of esteemed boxing writer Bert Sugar, who previously served as editor of The Ring magazine and Boxing Illustrated, as well as penning many books on our game.
Bert was a wonderful character and you'd always see him around the fight scene with his trademark fedora, cigar and smile.
Boxing is one of the most colourful sports around and great journalists like Bert can give it even more spice with the written word, something that is the stuff of legend in fight circles.
I grew up reading his work and when I was also present many times when he was holding court in bars and press conferences.
It was an honour to have known a great boxing enthusiast like him.