Kell class tells
Glenn McCrory says Kell Brook is ready for a shot at the big time, but it's too soon to go for Amir Khan.
Last Updated: 06/04/12 12:54pm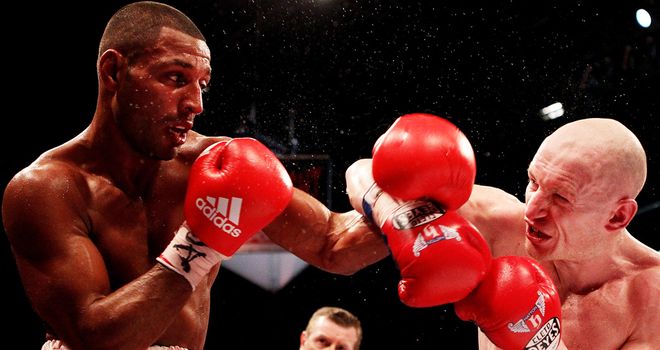 We watched Kell Brook cruise to an emphatic unanimous points victory over fellow welterweight Matthew Hatton in Sheffield on Saturday night - and the evening could not have gone much smoother for the home fighter.
Brook was very, very good. First of all, it was a terrific atmosphere - one of those where you want to stand around, look around you and take it in. There was a real sense of a big fight. There was a sense of a real happening - that kind of Ricky Hatton, Prince Naseem prestige.
Certainly, Brook didn't disappoint. He basically did almost nothing wrong. If you were being really critical, you'd say he got caught with one worthwhile left hook late on in the fight. It was the only significant punch that landed on him in the 12 rounds.
He dominated Hatton for me and looked far more in control and sharper than Saul Alvarez did in beating the same opponent. I thought he produced a more competent, self-assured and more together performance than Alvarez. His defence was good, his counter-punching was excellent and he led and pushed Hatton backwards.
Divide
As game as he is, as hard as he tried and as fit as he is, Hatton looked a couple of levels below. He hasn't been stopped since 2002 though, so there's no shame in the fact Brook failed to put him away despite dominating. He's tough and I think he's done terrifically well to get where he has.
I would never have seen Matthew Hatton getting to that stage when I watched him start off - I thought he'd be a moderate domestic fighter but now he's been European champion and fought for a world title so fair play to him. But against Brook, he was out-gunned and out-thought and soundly beaten.
For me, I wouldn't go down the Amir Khan route. I know Khan is the big name at the moment, fighting for world titles and a former world champion. Kell is making good progress and you have to put this victory over Hatton in perspective - there's a great difference between taking him on and taking the likes of Andre Berto, Victor Ortiz and heaven forbid, Floyd Mayweather and Manny Pacquiao.
It's great for Brook that he's on track and looking the business but I think that what he needs to do is find that level just under Berto - maybe someone like Devon Alexander. His last fight in America was a journeyman and now he needs to be in with a live top-10 welterweight. Alexander came back impressively to beat Marcos Maidana lately so it would be a real test.
If Brook's going to be the real deal, we want to see him in with top-class fighters soon. He's 25 and it's time to go with him. It's time to go with the Devon Alexanders, the Ortizes and the Maidanas.
If he wants to challenge Pacquiao or Mayweather, he needs to be in there with a really tough fight next time out, and every time after that.
Outclassed
After the Brook show at the Motorpoint Arena, Sky Sports transported us over the Atlantic Ocean to watch Birmingham-born Irishman Matthew Macklin take on middleweight superstar Sergio Martinez for his WBC Diamond title.
It proved a bridge too far for Mack the Knife, whose trainer Buddy McGirt threw in the towel before the 12th after two knockdowns in the 11th.
It went pretty much as I thought. I looked at Macklin's previous fights and I looked at Martinez's and I thought he'd get a better stoppage than he did over Darren Barker. I know it was the same round but it was more comprehensive and he was pretty beaten up in the end.
Martinez is the best middleweight in the world so there's no discredit for Macklin but if you watch it again, he just fell short. Martinez's accuracy is great and his movement's great - he's really on his game. Because of the way he fights, there's not even any sign that he's 37.
For Macklin, we knew he wouldn't be lacking heart and skills but I was glad to see Buddy pull him out and not take a beating in the 12th. He knows the game - he was a good smart fighter, a sensible guy and he knows when a guy is in too deep. So many trainers would've sent Matthew out with 'You can do it' but he knew that he wasn't going to beat that kid. Ever.
I think Macklin would have been knocked out sooner if he'd have been gung-ho. The tactics were all he could've done but at no point was he boss - it was very much whatever Martinez wanted to. It was great to see how good a fighter Martinez is though; you're talking about the No 1 middleweight in the world.
Macklin is obviously going to be out for a while and so is Barker with his injury - so let's line those two up and decide who the best middleweight in Britain is.
We had a great night of boxing both sides of the pond and that's what it's all about. We want to see the best fighters in the best fights and that's what we got on Saturday night.