Mack in the big time
Glenn McCrory says Matthew Macklin will need the fight of his life to overcome Sergio Martinez.
Last Updated: 15/03/12 3:40pm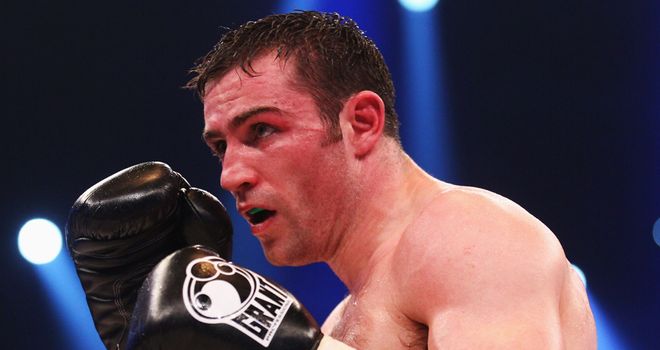 Matthew Macklin takes on middleweight king Sergio Martinez at Madison Square Garden on Saturday night with the WBC Diamond Belt and The Ring title on the line - and it throws up an intriguing opportunity.
Macklin has changed trainers from Joe Gallagher to Buddy McGirt for this fight but that's one of the things he does all the time. It's frustrating because how many times has he done it now? Too many in my opinion.
It's all very well thinking: 'I should try somebody different and I'll get better results' - but at the end of the day it's you in the ring. Yes, there are better trainers who suit a fighter but you have to get to a point when you've got to stick to something. He's a good fighter but I just don't agree with it.
Buddy McGirt is a great a guy and he's a great trainer. I know him personally and he knows his boxing. He did great things with Arturo Gatti, when he had him change his style altogether against Micky Ward. He's a good guy and he was a good fighter.
If a fighter has got ability and you get him fit, sometimes that's all you need. It's good when a trainer has a little bit more than that - and I'm not knocking Joe Gallagher because I think he's a good trainer in that he turns his fighters out in great shape. They've always got a chance. Macklin pushed Felix Sturm to the wire and it was a tremendous, but what's he going to do different now under McGirt?
Top class
Sergio Martinez is a very, very good fighter. You don't have 52 fights and win 48 of them if you're not a top quality fighter. You're talking about top-level fighters he's been in with. He hits hard and he's wily. He's getting on a little bit, which could be in Macklin's favour. Has he ever really been pushed? Has he ever really been taken to the wire?
You look at his record and you see names like Paul Williams, Kelly Pavlik and Kermit Cintron and you have to be impressed. You're talking about a whole different level - Macklin is up against it and let's not sugar-coat that.
There are those that thought Macklin beat Sturm. I, for one, didn't. I thought it was a great start and a terrific effort but I think Sturm had more class, more know-how and just about did the better stuff. He was just more appealing to me.
Macklin, to me, has always been a very good fighter but to me he's always just fallen short. I don't think he's the most skilful fighter in the world and I don't think he's the biggest puncher. He's good at a lot of things - he can put pressure on and he can box but I've just always thought he'd fall just short.
Big chance
It's because of what I mentioned earlier about the lack of continuity. One of the best things a fighter can have is stability - you look at all the best fighters and they stick with their trainers and stick with it.
Macklin seems a bit too eager to dive into something else. But hey, having said all that, let's hope it goes well for him! He's got the youth over Martinez, he's been in some tough fights, put in a massive effort against Sturm... but can he, on St Patrick's night, pull out the greatest performance of his life? He's going to have to and he's going to have to hope that Irish eyes are smiling.
He's in with a hardened, tough, experienced southpaw who can punch. One of the things I do when I appraise fighters is look at where they're from because fighters from certain countries are similar. One thing you always find with fighters from Argentina is that they're teak tough. Martinez is like that - he's only been stopped once and that was by Antonio Margarito a long time ago.
I think Darren Barker and Matthew Macklin are the same type of level. We've seen Macklin badly knocked out before (by Jamie Moore in 2006), and I think Martinez may produce a more convincing win against Macklin than he did against Barker. One thing we know about Macklin is that he's a proud kid with plenty of guts - he's never been wanting for heart. I think he'll give a brave and courageous effort, but it might be a punishing loss for him.
He's going for the big one and if he doesn't pull it off, maybe Macklin will fight Barker. It's a cracking pay day they've got for themselves and it will depend what he wants to do afterwards, but first up he's got a big opportunity here.
Let's hope he can pull off something amazing to get those Irish eyes smiling.