Action stations
Ricky Burns, Wladimir Klitschko and Brook-Hatton... Glenn McCrory talks boxing's big issues.
Last Updated: 09/03/12 3:32pm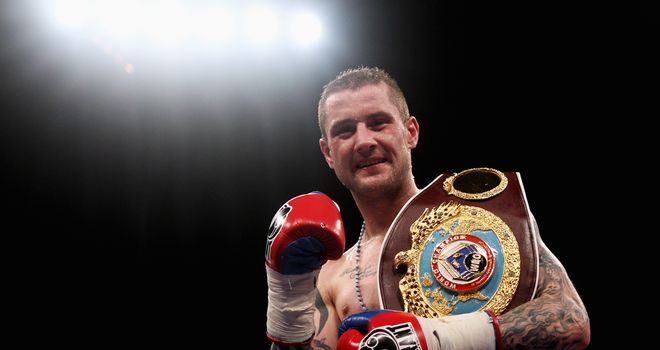 Manny Pacquiao doesn't shout about his ability from the rooftops. He does his talking in the ring, usually in sensational style.
Ricky Burns, the WBO world lightweight champion, is very similar in that respect; quiet outside of the ropes, ferocious in between them.
The Scot, who will defend his strap against Namibia's Paulus Moses at a sold-out Braehead Arena in Glasgow on Saturday night, has proved that you don't need to be obnoxious or strange to make it in boxing.
Burns' promoter, Frank Warren, wants his man to garner more recognition and he will do, just as long he keeps his title intact and, possibly, adds others to it.
Ricky says he hasn't watched Moses fight but that's not out of the ordinary. If you're a world-class boxer you should be able to deal with all types of opponent and shouldn't need to analyse every aspect of a fighter closely.
When you watch tapes you can get so wrapped up in what they do that if they attempt different tactics when you face them you get caught unawares. The first one or two rounds of a bout are where you really understand your rival.
Moses is a quality fighter; he has only lost one bout in his career and has knocked out 18 of his opponents. Burns has taken on a good match, but it is a test I think he will overcome, especially with the British fans behind him.
Strenuous
Wladimir Klitschko recorded the 50th knockout of his career against Jean Marc-Mormeck last week and did a pretty professional job.
He wasn't too impressive during the first couple of rounds; he was leaning on the Frenchman and getting a bit frustrated with fighting a smaller man, something someone with his experience should have handled better.
His trainer, Emanuel Steward, had to tell Klitschko to pull his socks up at the end of the second round and from then on he eased to victory.
I know Jim Watt said last week that he thinks Wladimir will keep on fighting as long as the contests don't take too much out of him, but I think unless a serious challenger comes along soon he may bow out and do something a lot less strenuous.
He is making a lot of money - there were over 50,000 people inside Dusseldorf's Esprit Arena on Saturday night - but if he is no longer tested what is the point in carrying on?
We'll know pretty quickly if Wladimir begins to labour; he is a big lump who stands upright and if his footwork begins to slow down he could be caught by some big shots over the top.
But he's immensely fit and I don't see that happening anytime soon, while I also don't see a young Mike Tyson or a young Larry Holmes waiting in the wings to take him down.
Red-hot division
I can't wait to see welterweights Kell Brook and Matthew Hatton lock horns on Sky Sports on March 17. The excitement is building and the guys' personalities as well as their boxing abilities will ensure the match lives up to expectations.
Kell will be the favourite and I've thought for some time that he will the next star of British boxing. If he beats Hatton, he can begin to move into the world-class bracket and look forward to some cracking fights in a red-hot division.
Matthew, however, must not be underestimated, even though he has been all throughout his career. A lot of people view him as 'just Ricky's brother' but he doesn't murmur about his lack of limelight, he just gets on very effectively with his business.
Hatton has a lot of character, as he showed while taking Saul Alvarez the distance last March, and if he does topple Brook, his connections will get him some real money bouts.
It will be great to see two genuine, honest guys fighting it out to prove who the best welterweight in Britain is.