Take it like a ban
Glenn McCrory talks Dereck Chisora's suspension and why Jamie McDonnell is world-title material.
Last Updated: 02/03/12 3:51pm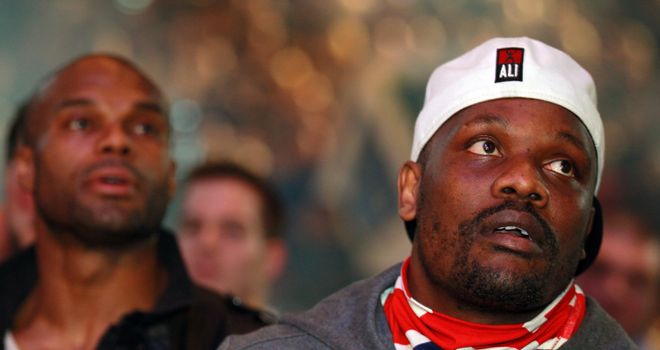 The WBC have sent out a strong message by banning Dereck Chisora from boxing indefinitely.
The reprimand had to be harsh after all that went on in Munich; Dereck's actions weren't tongue-in-cheek, they were serious and someone could have got really hurt.
We have a hard time defending our sport at the best of times, so when someone steps out of line, as Dereck did in Germany, they must be severely punished.
This is punitive for Chisora but hopefully educational for everyone in boxing. It proves that you can stare menacingly at each other, you can call each other names but if you slap your opponent or brawl in a press conference you will be banned from the ring.
There is now no excuse.
We want each of our fighters to be role models like the Klitschko brothers; intelligent, great athletes, great ambassadors for the sport, great examples to the young and people who showcase boxing's positives.
The WBC - no doubt fuming after Chisora slapped their world heavyweight champion - have reaffirmed that thuggish behaviour that brings our sport into the spotlight for the wrong reasons won't be tolerated.
The British Board of Boxing Control must be equally forceful when Chisora appears in front of them on March 14.
Solace
Chisora's promoter, Frank Warren, wants the best for his fighter so I understand why he has been angered that Dereck has been punished without an official hearing.
But what happened in Munich occurred in front of the world's media and is extremely difficult to defend. This wasn't done behind closed doors, where only a few people know what really went on, the images show that Chisora acted incorrectly.
The solace that Dereck can take, though, is that he does seem to have a path back into boxing - if he chooses to take it. The WBC will review the ban if Dereck undertakes anger management classes, so whether it is in one, two, three years we may see Chisora in a ring again.
But he has to earn that right by behaving impeccably and becoming a good representative of boxing. If he does that, then any licence application he makes should be treated just like a new one.
The ball is in Dereck's court and it is up to him to prove how much he wants to be a professional boxer.
Disruption
Saturday night on Sky Sports sees European Bantamweight champion Jamie McDonnell defend his strap against Ivan Pozo.
McDonnell was originally scheduled to face Frenchman Malik Bouziane but he pulled out a few weeks back, leaving the Brit to tackle the 32-year-old Spaniard.
I think McDonnell is a potential world champion, so he should be able to deal with a change of opponent. It is a common occurrence in boxing and shouldn't present him with too many issues.
You train for all styles, even though you obviously focus on your next opponent's in-ring methods, so it's more of a disruption if you've been doing orthodox sparring and then you're up against a southpaw, rather than switching from a defensive to more attacking fighter, as Pozo supposedly is.
McDonnell really impressed me in his domestic bout with Stuart Hall, a man I rate highly, in September. He showed a boxer's brain, excellent boxing skill, a fighter's heart and aggression; a real strength in depth that is vital as your career progresses.
Pozo, meanwhile, is a former world title challenger - albeit at flyweight - so he should have some big-fight nous. He also wouldn't have been expecting this opportunity so he can come out all guns blazing which will make him a dangerous proposition.
The Spaniard is a renowned puncher - he was recorded 20 knockouts in his 32 victories - so Jamie's primary task will be to try and diffuse Pozo's attacks.
The most dangerous point in the fight will be early on, when Pozo will have power and speed, but Jamie should be able to combat that. He's tall, rangy and very well-schooled and if he can get his jab working in the opening stages and take the sting out of his rival's punches, he should come on strong in the rest of the fight.
I expect Jamie to get a stoppage in this match - and hopefully a world-title bout before the end of the year.
To hear Jamie McDonnell's views on his fight with Ivan Pozo, click the video below...