Note to self
Glenn McCrory says the winner of Alexander-Maidana will be on a path to big names - and big money.
Last Updated: 24/02/12 11:58am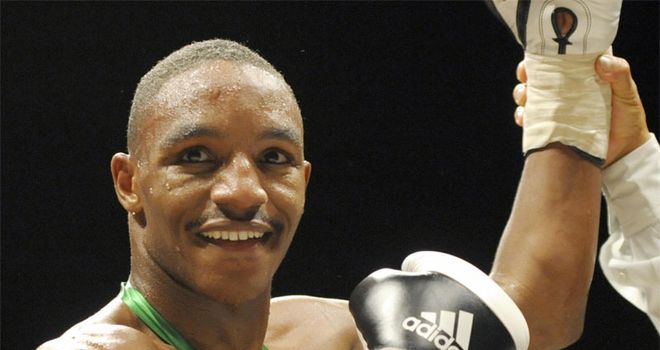 It's easy to see why Devon Alexander and Marcos Maidana have stepped up to the welterweight division: it's the home of the big fights and the big money.
Amir Khan has plans to move up to the 147-pound mark if he overcomes Lamont Peterson and, of course, everyone wants to face Manny Pacquiao and/or Floyd Mayweather.
Substantial sums accompany welterweight bouts and the winner of Alexander and Maidana's clash - live on Sky Sports HD1 in the early hours of Sunday morning - could get a taste of those riches, possibly beginning with a match against the victor of this summer's match between Andre Berto and Victor Ortiz.
Maidana will possibly start as the underdog, considering he is fighting in Alexander's hometown of St Louis, Missouri, but he does have some potent weapons.
The Argentine has a pretty basic style, but he is chaotic, action-packed and hits hard, as Amir Khan will testify.
Maidana took the Briton the distance in December 2010 - despite being floored in the first round - has only lost one other bout (to Andreas Kotelnik), won 28 of his fights via knockout and picked up the notable scalps of Ortiz and Erik Morales.
Alexander, meanwhile, has stagnated a bit since he was beaten by Timothy Bradley in a light-welterweight title match early last year.
He got exposed somewhat in that bout and I believe his chin is a tad suspect; someone who hits as hard and as often as Maidana could exploit that.
There is also a thought in some camps that Alexander has been a very lucky boy with the decisions he won in his hometown against Kotelnik and Lucas Matthysse - but he's still in big fights and looking for bigger ones.
Mind games
Both Maidana and Alexander will take drugs tests before and after the bout following unproven accusations from Maidana's advisor, Sebastian Contursi, that Alexander may have taken steroids.
I'm not sure whether Maidana's camp suspects any wrong-doing, or whether they are just trying to get inside the head of Alexander.
Boxing is very much mental as well as physical and if you can get a slight edge in the mind games, as Dereck Chisora tried with Vitali Klitschko, it can make a huge difference.
I still think Alexander will pick up the win in this match, possibly through a contentious points decision, but if he is be considered a top-level fighter he needs to box on the road a bit more often.
Competing in St Louis obviously generates a lot of money and he must love the hometown support, but he needs to prove he can thrive outside his comfort zone, much like Andre Ward did in the Super Six Final.
The Oakland native beat Carl Froch in New Jersey and his stock has soared. If Alexander can do the same in the future, so will his.
The huge fights and the huge money then really would be in the pipeline.