Chisora's chance
Glenn McCrory says Vitali Klitschko will have to be below-par to lose to Dereck Chisora.
Last Updated: 15/02/12 1:13pm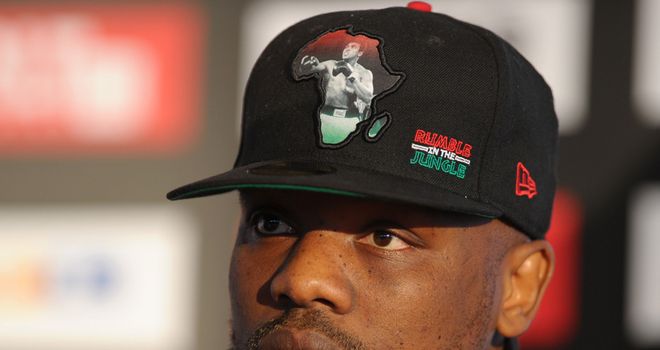 Dereck Chisora goes into Saturday night's WBC heavyweight title clash with champion Vitali Klitschko needing that crucial slice of luck.
Chisora has a chance but only if Klitschko wakes up and is not the same Klitschko. Klitschko is 40 years old now, and fighters can wake up one morning and they haven't got it any more - they've grown old over night.
Chisora is young, ambitious and he was unlucky against Robert Helenius in his European title shot... but is that enough to beat the best heavyweight in the world? I'm not sure - it would be a massive upset if he pulled it off.
You'd expect Chisora to train harder than he did for the Tyson Fury fight. It's a massive opportunity - to become heavyweight champion of the world and really make a name for himself. You'd expect him to give it his best shot, but look what David Haye did. We thought he'd go out all guns blazing but he didn't.
Klitschko is such a formidable size that it's ok in press conferences, talking and everything but when you're in there with him and the bell goes, you're all by yourself and it's a different story.
Domestic
Domestically, the big heavyweight news is David Price booking a clash with Sam Sexton. Sexton is a decent fighter. He's got different qualities and is more of a boxer than Price's previous opponents. At this stage, Price needs different fights, different styles and different opponents. I think Sexton offers a different sort of test for him and it's a decent enough fight for Price.
We all would have wanted to see the Price-Fury fight and I'm quite shocked that Fury gave up the titles, but Price can't do anything about that. If the champion is going to give up the titles rather than fight you, what can you do?
On the wider picture in the heavyweight division, the Klitschkos have been going on so long you've just got to think that it can't keep carrying on. Their championship time has to come to an end sooner or later - they're not getting any younger. They're brilliantly fit but they're not going to stay around much longer and you're looking for names like Deontay Wilder and Malik Scott to push through. But one of the names I would throw in there would be Price - I think he's got a great future.
He's never really showed the sort of power he's been showing lately. As an amateur he was a stiff hitter, but now he's really maturing and starting to punch his weight. He's coming on leaps and bounds and it's great to see.
Rematch
I'm thrilled to see that Amir Khan has his rematch with Lamont Peterson on 19 May in Las Vegas.
I think Peterson was pretty much shoved into a corner one way or another. The Khan camp started to upset everybody with what they were doing but what they did worked. They managed to get their rematch. Peterson could have tried to get Juan Manuel Marquez but the rematch with Khan is what everyone wants to see.
Amir has had an awful lot to say and I'm one of the ones who thought he just nicked it, but I certainly wouldn't have made any argument whatsoever about the result. I think he's still got a fair test and a big fight on his hands again.
Khan didn't do an awful lot wrong in Washington. This time there'll be a big difference in the referee and the judges and you've got to put Khan just ahead of Peterson in my book. The first fight was absolutely terrific and I'm looking for more of the same. Froch-Ward was a great fight in that it was a masterclass from Ward, but Khan-Peterson was just a great fight.
It was inspired. The thing I'm wondering is - can Lamont Peterson be that inspired again? Was it just one night when he reached his peak - his all-time performance at home?
Khan should prevail, but in Peterson's mind, he beat him. He beat him and he celebrated with his people. That's going to give him a lot of confidence. He might have grown from that performance. He showed a lot of skills, strength and heart. He took some good shots. I'm just really looking forward to the fight.
Banana skin
I'll be interested to see 21-year-old Saul Alvarez defend his WBC light-middleweight title against the experienced Sugar Shane Mosley on 5 May.
Mosley is in the twilight. There's a great saying: 'He's not as good as he once was, but he can be once as good as he ever was.' He that sort of quality fighter - yes, he's not the force that he was but every now and again he can come with a really good performance.
Alvarez is very good technically. He's young and undefeated and there's quite a lot of hype goes with him - but he's never massively impressed me. Mosley's quality and it's not a foregone conclusion.
You'd expect Alvarez to win but, with all due respect to Matthew Hatton, Alvarez should have handled someone of a lighter weight much better than he did. Hatton is a good quality domestic fighter but Alvarez should have done a more impressive job on him. I'm still not 100 per cent on Alvarez. I've seen him wobble a couple of times but there's a chance Mosley could be a banana-skin and know too much for the kid.