Quigg's floor show
Glenn McCrory says Scott Quigg proved his heart by coming off the canvas to beat Jamie Arthur.
Last Updated: 17/02/12 8:54am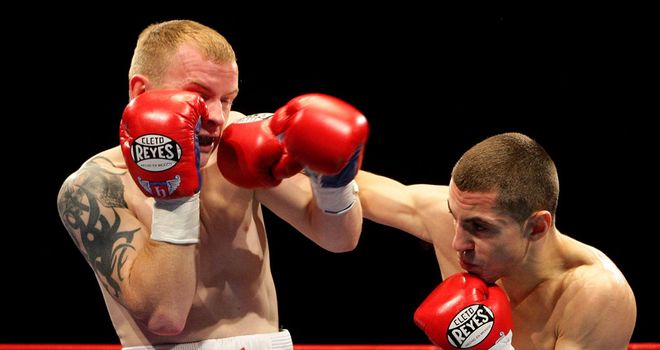 Scott Quigg had to show plenty of resilience to get past Jamie Arthur on Saturday night.
The Bury man was knocked to the mat in the fourth round, but battled back to secure an eighth-round stoppage and retain his British super-bantamweight title.
I thought Quigg put in a pretty good performance; the only mistake he made was the one that led to him being floored, and he showed how much courage he has by the way he responded to that.
He knew that Arthur would be fit and fired up and probably gave him a bit too much respect in the early portion of the fight and tried to be a bit too cute.
But after the knockdown Quigg boxed very intelligently. He didn't let his ego take over and try to land that devastating shot; he bided his time and worked his way back into the fight.
Quigg then seized control; he punched harder and was more aggressive, rather than trying to play the role of the counterpuncher.
It suits him when he does that because when he grits his teeth and pulls his chin down, he is very hard to move.
Quigg might only be 23, but the way he conducted himself in that fight proved that he has an old head on young shoulders.
He's not the finished article - getting knocked down by a far-from-special right hand showed that - but he is one of the most down-to-earth kids in boxing and his hard work will lead to further success.
The end of the fight was controversial, though, and I do think referee Mike Green stopped it too quickly. The body shot that Quigg delivered did hurt Jamie Arthur, but if you're going to stop it for that why not call a halt when Quigg was on the floor?
Referees are there to ensure we get a good flight, but also that no-one gets hurt, and perhaps Green had made his mind up that Arthur was going to lose and pulled him out at the first sign of things starting to come apart.
That would never have happened in America where fighters can be up and down three or four times before the fight is stopped.
Arthur has a right to feel aggrieved because having floored Quigg once he could conceivably have done it again and I've seen fighters in a far worse predicament who have come back to win.
Unbeaten
Manny Pacquiao and Floyd Mayweather are not fighting each other just yet - but both are in line for some very taxing fights this summer.
The Pac-Man is set to face WBO light-welterweight champion Timothy Bradley in June, with Mayweather tacking WBA light-middleweight titlist Miguel Cotto a month earlier.
Bradley is a big, strong man, unbeaten (28-0) and just the sort of opponent Pacquiao needs. The Filipino doesn't have anything to prove, but there were signs in his last fight against Juan Manuel Marquez that he may just be losing his edge.
He didn't have the bite and ferocity that we've been used to seeing from him and perhaps his political endeavours outside of the ring have resulted in him coming off his peak.
Cotto, meanwhile, is nobody's easy fight; he is one of the best pound-for-pound boxers out there. He will ask plenty of questions of Mayweather, whose mind may be distracted about his impending jail term. It is fight to get really excited about.
Tricks
I was saddened to hear about the death of legendary trainer Angelo Dundee last week.
As an undefeated heavyweight, I faced one of his up-and-coming fighters, Mike Williams, and we remained in contact after that.
I spoke to him a lot when I dropped down to cruiserweight and moved to America; he always took the time to help me out, and he always did it with a smile on his face.
Angelo also knew all the tricks of the trade. I remember when Williams got cut during our bout Dundee got out this yellow gunk and tried putting in his fighter's mouth. Cut man Mick Williamson then said: "You're not doing that in this country!"
He always wanted to help his man get whatever edge they could, but he also garnered their respect and was a terrific motivator.
Muhammad Ali got liniment in his eye during a match with Sonny Liston and wanted to pull out, but Angelo kept Ali going even though he couldn't see. He instilled so much confidence in his charges and made them do things that others couldn't.
Angelo was a wonderful man and a true Hall of Famer.