Plenty to prove
Is Ulsterman Carl Frampton destined for boxing's big time? Glenn McCrory remains unconvinced...
Last Updated: 31/01/12 5:14pm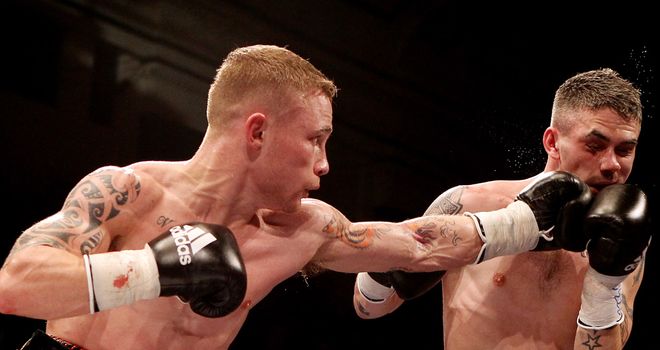 Solid but unspectacular is how I would describe Carl Frampton's win over Kris Hughes on Saturday night.
The 24-year-old has got a lot of people talking but he didn't show me anything to suggest that he is going to be the next super-bantamweight world champion; I wanted to see more.
Frampton won in reasonable style, knocking Hughes out in the seventh round, yet he didn't show immense punching strength and he got hit by some silly shots by leaving himself a bit too open.
I never saw Hughes as a substantial danger and perhaps that's why Frampton was not at his best.
When you know your opponent has the power to hurt you, an element of fear creeps in and you tend to raise your game. While Hughes put in a credible performance, tried hard and got a few punches in, he wasn't a significant test.
Frampton clearly has talent but he still has to prove that he is going to be Northern Ireland's next star and take the mantle of his manager Barry McGuigan.
I don't want to be overly critical because there is no need to be, but at this stage his reputation is greater than what he has shown in the ring.
Natural
We'll find out how good Frampton really is, and whether we should be talking about European and World title shots, when he faces stiffer challenges.
A fight with Scot Quigg looks likely and it's one we all want to see. It's a natural next step; they're both champions, young, hungry and on the up.
I've seen a bit more quality in Quigg and I think he would win a match between the two. He seems to have a better temperament and brain, more resilience, and superior punch power.
That's not to say that Frampton couldn't pull out all the stops but the job Quigg did on Jason Booth in October was a little bit special.
Quigg is back in action on Sky Sports this Saturday when he defends his British title against Jamie Arthur in Bolton.
It won't be a spectacularly tough test but the Bury man will be facing someone who is durable and can punch. Arthur is always dangerous, especially early on, and Quigg will have to be careful during the opening few rounds.
However, I'm expecting Quigg to record a convincing win.