An inspirational icon
On Muhammad Ali's 70th birthday Glenn pays tribute to the man who inspired him to take up boxing.
Last Updated: 17/01/12 2:35pm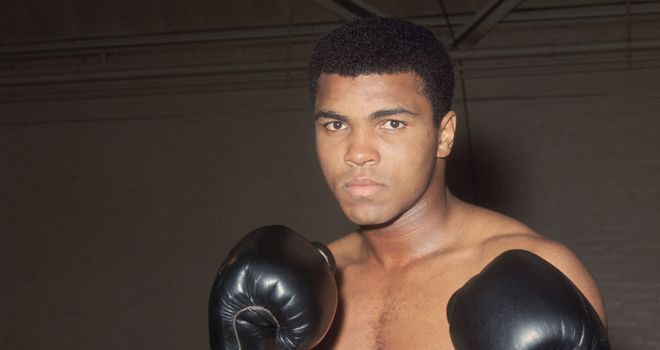 Muhammad Ali turned 70 on Tuesday and it's the perfect opportunity to celebrate him as the icon and the inspiration he was and still is today.
Growing up as a kid in the North East of England there were only three sports: football, football and football. But Ali made me so excited about boxing and inspired me to step into the ring. It was amazing to see him win and win the way he did.
One of my greatest moments was in 1984 in the Grosvenor Hotel. Ali was guest of honour and I was a novice heavyweight in a six rounder. I heard he was there and just wanted to connect with him so I did the Ali shuffle and rolled my hand over a few times during the fight. Looking back on it now I must have looked like a bit of an idiot! But I wanted him to know how much he'd affected the life of a kid from Newcastle and how great I thought he was.
After the fight, while I was getting changed, I was told Ali wanted to meet me. I've got a wonderful photo of me and him hanging on my wall. He told me one day I'd be a world champion and those words got me through so many hard times I faced - and I eventually proved him right.
He's on a pedestal of his own. No one transcends sport like him. At times in his career he was very outspoken. With the political attitudes of the time in America he stood up against racism and refused to go to Vietnam. He was brave enough to do all that.
Since then his battle with Parkinson's has humanised him. Now people see him in a different light. He has fought that disease with so much dignity and bravery.
He was a great fighter and coupled with his persona and character the legend of what he did will stand up for the rest of time.
Favourite fight - His clash with Sonny Liston in 1964 was obviously a great fight. He was given no chance at all in the build-up. Liston was a ferocious fighter but Ali - or Cassius Clay as he was called then - talked himself into a fight and pulled off a feat of genius. Then there was his stoppage of Cleveland Williams, a monster of a man, who he stopped in round three. I've never seen anyone so fast and accurate. Then there's the Thriller in Manila...there were so many wonderful moments in his career.
Favourite quote - It's got to be: "I float like a butterfly and sting like a bee!"
The big fight is on
Ali had everyone talking about boxing in his day. In 2012 Floyd Mayweather and Manny Pacquiao can do that too. This fight was looking unlikely at the end of last year but recently a few events have occurred which have made the potential super-fight a reality.
Mayweather hasn't stayed undefeated all these years for nothing. He's more than a good fighter - he's very shrewd. Pacquiao was in his heyday when he was knocking out Ricky Hatton and Oscar de la Hoya. Maybe wisely Mayweather thought: 'this can sit and boil for a while'.
It's going to make millions whenever it happens and now the time seems right. Pacquiao looks like he could have lost to Juan Manuel Marquez while Mayweather needs to put himself back in the public eye after prison sentence. He needs to redeem himself. Things are coming together to make that fight happen.
Neither fighter needs this fight. Neither of them have anything to prove. But the public wants it and sooner or later the vast amounts of money it can make them is going to tell...
Lots to look forward to
This year is going to be a great year for boxing. We've got the London Olympics coming up in the summer and I'm looking for a few fighters in Team GB to make their name.
Professionally we've also got some fantastic fights to look forward to including Matthew Hatton v Kell Brook, Carl Froch's return and Amir Khan v Lamont Peterson.
People say British boxing is struggling - but when was the last time we had so many fighters contending at world level? We've got real strength in depth and I can't wait for the big fights to get underway!