Mind control
Glenn McCrory says Amir Khan must be tougher mentally should he fight Lamont Peterson again.
Last Updated: 10/01/12 3:57pm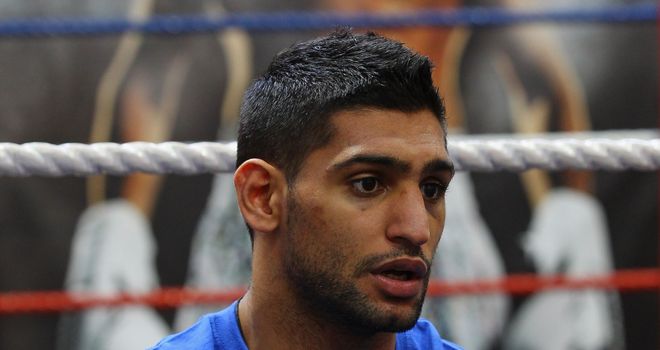 The 'mystery man in a hat' saga looks like it will end with Amir Khan getting a rematch against Lamont Peterson.
Amir's camp has played this well; they've made some noise, searched for things they feel weren't right and generated a lot of publicity. If that gets them another shot, fair do's.
Khan has a right to feel aggrieved that this man - now identified as IBF official Mustafa Ameen - was wandering around at ringside, but I would be very surprised if anything untoward went on.
If Ameen had been talking to a judge there would have been a problem, but he was talking to WBA official Michael Walsh.
I can see how somebody from the IBF would be there trying to put their oar in and getting themselves noticed, but I'd be shocked if he played any part in the outcome of the fight.
People hover around the ring all the time. Often it's us TV people who want to know what's going on. It can be very hectic at times, though, I have to say, I thought things were handled in a very amateurish way on fight night.
It appeared to be a case of a town (Washington, DC) not used to staging big fights. We have to make sure boxing is run as well as it can be and lessons need to be learned from that evening.
Frustrated
Amir's bluster since the fight has probably rubbed a few people up the wrong way and even I think he should have taken the defeat on the chin. It was a close call that could have gone either way, while I know some very good judges of boxing thought Peterson won well.
Khan's reaction has been a little disappointing but he's still young and is going to feel frustrated. I still think he will garner respect because he's such a terrific fighter.
However, he's put a lot of pressure on himself to beat Peterson if and when a rematch happens.
Ever since the fight, everyone has been caught up-in the hoo-ha of whether the referee was good enough and now with this mystery man, seemingly forgetting that Peterson was inspired on the night. He's beaten Amir once and believes he can do it again.
If Amir is to even the scores, he needs to get his mind in order and buckle down because it will be hard. Mentally, he needs to appreciate the job that's in front of him and I think he will. He didn't expect to be under that much pressure from Peterson in the first bout, but will be ready this time.
Khan came back from a devastating loss to Breidis Prescott and three fights later he was world champion. Who's to say he won't come back from this even stronger?
What I do hope, though, is that the first bout is not deemed a no-contest and that Peterson's WBA and IBF light-welterweight titles are not taken away from him. He deserves to head into any rematch with the gold.
Temperament
Welshman Nathan Cleverly, meanwhile, will be defending his WBO light-heavyweight title in February against American Tommy Karpency and he needs to step up.
He is a terrific kid with a great temperament but I want to see him fight at world-class level before I make any judgment on how good he can be. You can't say a defence against Tony Bellew, who had only had 15 fights, was a good marker.
Nathan seems to be on a collision course with WBO counterpart Beibut Shumenov but I would love to see him fight Carl Froch, should The Cobra move up to light-heavyweight.
I'd expect Froch to win, but it would be a cracking fight that would really capture the public's attention.