Boardwalk beckoning
Glenn McCrory believes Carl Froch's clash with Andre Ward will prove to be the fight of the year.
Last Updated: 14/12/11 5:58am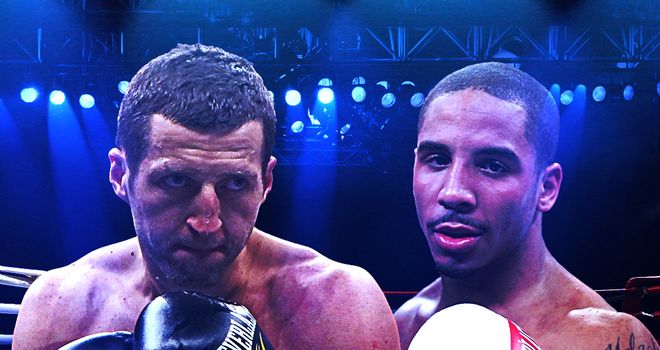 The Super Six reaches a climax in the early hours of Sunday as the top two super-middleweights in the world, Britain's Carl Froch and America's Andre Ward, put their belts on the line at Boardwalk Hall in Atlantic City - and it's a fight worth staying up for.
Ward is very, very good. I spent a week over there in the King's Gym in Oakland. I took my boxing team there last January and he was great - in the gym every day, training really hard. It's a really rough area where that gym is - Oakland's a tough, tough place.
He's a really nice, down-to-earth kid. He's a respectful guy but he can fight. He's undefeated since he was 12 and he's got a fantastic record. He should be a bigger star than he is in America because he's an Olympic gold medallist and a world champion, but he's quite unassuming and he's not brash. He's a family man and religious and maybe that holds him back in terms of exposure, but his talents are there.
His Olympic gold was at light-heavyweight so he's a big guy. Having said that, he makes super-middleweight well and he's big and strong. I saw him against Mikkel Kessler and he boxed in and out, then I saw him against Allan Green, who's supposed to be a bit of a tough guy, and Ward just pushed him against the ropes and bullied him. He is capable of employing both styles equally well. That's the mark of a good fighter.
Style
I think against Carl Froch, he'll fight more like he did against Kessler - at least early on. If he went out to have a row with Froch, I think he'd be playing into his hands slightly. If anyone can beat him it's Froch, because he's got great self-belief, is a tough kid with a great jaw and punches hard. The only problem is Froch is a bit unorthodox - his hands are quite low and he gets square on. As a result, he gets hit quite a lot but like I said, he's tough.
The form goes in favour of Ward but if anyone can do this then it's Froch. Never underestimate his power - he really hits hard. I can see exactly what Froch is trying to do in the pre-fight hype, really getting in Ward's face, being bullish and threatening to knock him out. He wants Ward to come out and have a fight with him. The problem is even if Ward does come out and have a fight with him and Froch goes in there thinking he's the tough guy, he needs to have a look at what it's like in Oakland...
I think these two are rightfully in the final. Froch has got the one defeat against Kessler but his preparations were wrong. I think he's a better fighter than Kessler and these are the best two super-middleweights in the world. It's a great clash of styles and a great clash of temperaments. I think it's going to be a super, super fight for us to end the year with.
Finale
I thought Khan v Peterson was excellent action but I think Froch v Ward is going to a classic. It's absolutely mouth-watering. If Froch can win, it is such a massive victory for Britain. This is to decide who is the super-middleweight in the world - end of story.
In terms of what the winner of this fight will do, Ward would take IBF champion Lucien Bute but he would only take him in USA. Kessler got badly beaten by Ward but if Froch won then there's a score to settle there. Having said all that, at the end of the day the winner of the day can confidently claim to be the best in the world - AND they'll be up there in the pound-for-pound ranks too.
If Froch wins, it's one of the best British wins we've ever had abroad. It will be there with Lloyd Honeghan beating Don Curry and all the rest. For Ward, victory for him would finally see him become the American superstar he has deserved to be for quite some time.
I just think Ward is a bit too special. You've got to be if you're going to call yourself 'Son of God', which I believe is his nickname. It's going to be close, and of any fight this year, THIS is the one I'd stay up for without question.
Glenn's prediction:WARD ON POINTS.