Amir's rage concern
Glenn McCrory says Amir Khan should calm down and admit Lamont Peterson had the night of his life.
Last Updated: 09/10/12 2:37pm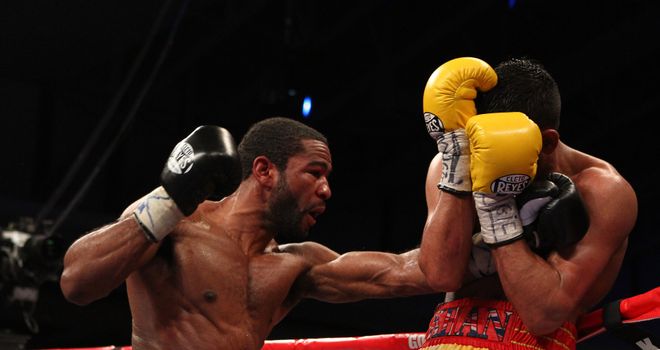 How did I view Amir Khan's loss to Lamont Peterson on Saturday night? A tight match that could have gone either way.
The points defeat keeps being described as controversial but I don't think it was an outlandish decision by any means. I would have awarded the victory to Amir but not by a million miles.
That said, I thought the referee, Joseph Cooper, seemed a little naïve and perhaps a more experienced official would have kept things under greater control.
Amir was bullied by Peterson and pushed around the ring; the American really bore into him with his head down.
That left Amir with very little room for manoeuvre and he couldn't jab him - and I do think Peterson should have been warned.
But, at the same time, Cooper was right to dock Amir two points because he was leaning on and pushing his opponent. Peterson came running at him like a freight train and he was completely perplexed.
Khan's ploy was to stop Peterson working - Muhammad Ali made a career out of that - but you can only get away with so much.
Hard streets
Peterson put in wonderful performance and perhaps that was to be expected. I'd heard all about his story coming from the hard streets of Washington. I'd heard he was from hell.
When you've got somebody who's come from nothing and is given a chance of greatness, for one night only - especially if they are in their home town - form goes out the window and they can be unstoppable. Saturday was Peterson's night of glory.
There is no disgrace in Khan losing - and I'm 100 per cent sure he would win a rematch.
I'd still like to know how on earth Peterson put on 15 pounds between Friday night's weigh-in and Saturday night's fight. It certainly made a big difference to him as he was pushing Khan about and that's no mean feat because, for a light-welterweight, Khan is huge.
One thing that did disappoint me was Amir's reaction to his loss. He had a right to feel a little aggrieved, but it wasn't daylight robbery and he should have taken it on the chin and been a bit more gracious, not kicked up a stink and questioned everything.
I sent Amir a text telling him as much. Sugar Ray Leonard wouldn't have got so angry, he would have said: 'Well done, I'll knock you out next time'. I wish Amir had done the same.
It was a great fight and it should be a great return. Khan will get his revenge and then, with respect to Peterson, move on to some of the big-name bouts that we've all been hoping for.
A meeting with Floyd Mayweather is not dead in the water - just merely delayed.