Not Amir formality
Glenn McCrory is excited to see champion Amir Khan test himself against the grit of Lamont Peterson.
Last Updated: 05/12/11 12:13pm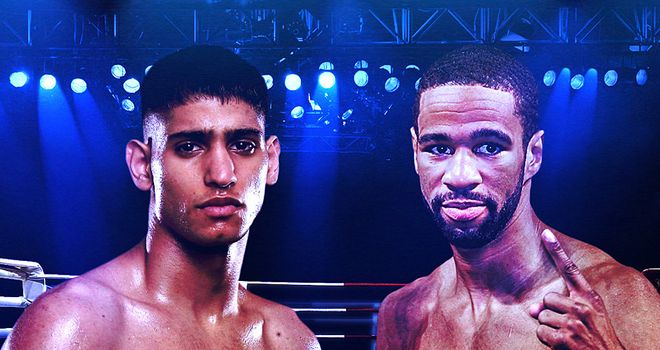 The Amir Khan v Lamont Peterson fight is an intriguing one.
The Bolton boxer puts his WBA and IBF light-welterweight belts on the line in Peterson's hometown of Washington, D.C.
In a way, they're competing for a match with Timothy Bradley. Peterson has already lost a decision to Bradley, so it's more about Khan. I think Khan will want to do a better job on Peterson than Bradley did.
Peterson is a good fighter. He's good technically, pretty tough and has lots going for him, but I think Khan is out there to prove a point.
People may say that the victory over Zab Judah told us more about Judah than Khan, but the fact remains that Judah is still the sort of fighter who can give anybody a hard time on his day. He was a good stoppage to get on Khan's card.
Rising
Khan has done tremendously well and he's now looking for the big, big fights. More than anything else, he's looking for Floyd Mayweather Jnr. I think that fight should happen and probably will happen. Khan just has to keep doing what he's been doing. His performances have been excellent since he's been in the States.
Peterson - without being a terrific name - is a very decent fighter. He's a tough kid who's had a hard upbringing (he was found on the streets by boxing coach Barry Hunter, aged 10) and it's a dangerous fight for Khan without being a big-name fight.
Khan will be looking to win well and try and better Bradley by stopping Peterson. The one thing that Khan has that other fighters haven't got is phenomenal speed. He'll need it, because these are the sort of fights that are really testing.
It's natural to get motivated for a Mayweather or a Manny Pacquiao fight, but these are the kind of fights that prove the mark of a fighter. Peterson's got everything to gain and nothing to lose. Having been a world champion myself, I can tell you it's hard to defend. Challenging is easy!
Superstar
I'm a big fan of Khan. I think he's a terrific young fighter who has just grown in stature. Britain has a real superstar in its midst and I can't bang his drum loud enough. He's going to be in great fights; I think the Mayweather idea will come off and I can't rave enough about Khan.
Before we get ahead of ourselves, though, he has to take charge against Peterson. If you're the main man, the man the TV companies are paying for, the one whose reputation is on the line, you have to go out and be the boss.
He's going to Peterson's backyard - he feels strong enough to do that. He left the comforts of England long ago to forge a career among the best fighters in the world, and he's doing just that.
I, for one, want to see Khan fighting back in England. I'd love to see him fight Mayweather at Wembley in the spring, but, most of all, I'm just glad to have him back on Sky because I think he's one of the best fighters we have had for many years.
Consequences
With regards to the other possible fights in the future, I don't necessarily think Khan has to go back to Breidis Prescott. I think it was a blip and I think that if it did happen again, it would go the other way round and Khan would take Prescott apart.
That fight was a learning experience and he learnt well. He's come on lots from that. If he goes back, I think he'll annihilate Prescott because I believe he's in a different league now.
There are always other good fights out there for Khan. People like Erik Morales are always going to be able to provide solid opposition because of what they know, but what's for sure is there's only big, big fights out there if the Peterson fight goes well.
Another interesting option is our welterweight, Kell Brook. I think he's destined for big things, too, and we're looking forward to seeing him in his American debut in Atlantic City on December 17. That would be fantastic; a domestic showdown with Khan facing Brook.
More immediately, I think it would be tough for Bradley to duck Khan again if Peterson is stopped. Khan is trying to clean up the light-welterweight division and rightly so.
Bradley is talking a good fight and saying he doesn't need Khan, but it just seems that he doesn't want to fight him. Khan is trying to force him into it and that's the next logical step.
Either way, we'll know a lot more after the Peterson fight...
Glenn's prediction: I think Peterson will take quite a lot of beating and softening up, but eventually I see Khan wearing him down and sealing a stoppage in the late rounds.