A bridge too far?
Glenn McCrory says Martin Murray will put up a valiant fight against Felix Sturm, but victory will just elude him.
Last Updated: 30/11/11 12:58pm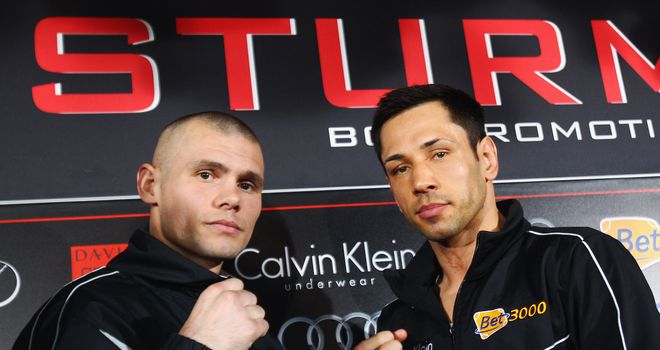 This is a big, big step up for Martin Murray.
I know he has made terrific progress in the last few years but Felix Sturm? In his 13th world title defence? In Germany? That is a tough challenge for any middleweight in the world and certainly a couple of levels up from what Murray is used to.
I am not saying it is Mission: Impossible, but is a big, big ask. Not beyond him, of course, but tough nonetheless.
Matthew Macklin is a decent fighter who I rate highly and beating Sturm, in front of his own fans, proved beyond him. I know plenty of people thought Macklin won that fight, but I'll be honest and admit that I thought the German did just enough down the stretch.
I think Matthew let him have a few good rounds at the end and with a fighter of Sturm's experience and skill, he knows how to capitalise. Murray and his trainer, Oliver Harrison, will have watched that and cannot afford to make the same mistake.
The key will be keeping up that intensity from the first to last bell. Sturm definitely underestimated Macklin and there is a chance that, because Murray has probably done less on the world stage, he won't take him seriously either.
But, I'm afraid for Martin, the likelihood is that will have served as a warning to Sturm and he won't do that again.
A real handful
Murray can be a real handful. We've seen him breaking people down, but we've never seen him do it at anywhere near this sort of level.
This is certainly a few steps higher than he's used to, but it's a great opportunity. He has done nothing wrong so far, so we don't know how he will react to going into the lion's den.
It's a big, big ask and we don't know how good Murray can be. But what we do know is that he's not going to outbox Sturm - even Oscar De La Hoya couldn't outbox him!
Macklin showed the way to do it, taking Sturm's jab and his plan away. Murray's punches could be more telling - he has the strength, determination and a decent jab - but we haven't seen him overly tested, fighting on the back foot when things aren't going his way.
That's not to say he can't up his game and reach the level needed to beat Sturm. Murray looks a fine athlete and works hard, but you never really know about a fighter until they are backed up; you never see the man in the boxer until then.
Nothing to lose
This could be a good division for Murray because if he wins the title there are great domestic world title fights out there for him. He has everything to gain and nothing to lose.
However, I don't think many people would put Murray down as favourite, especially not with the judges in Germany. But the kid has got depth and solidity to him and whatever the result I think, like Darren Barker, he will come out of the fight with a lot of credit and his stock will rise.
As for Sturm, the Macklin fight took a lot out of him but he dug deep, came back and showed a lot of character. He's been around for a long while, though, and now could be the right time to get him.
But I'm going for the champion to retain his title either on points or via a late stoppage. The timing may favour Murray, but I just feel the bridge is a little too far for him.