A losing battle
Glenn McCrory sympathises with Juan Manuel Marquez, a man stood in the way of boxing's richest fight.
Last Updated: 15/11/11 8:40am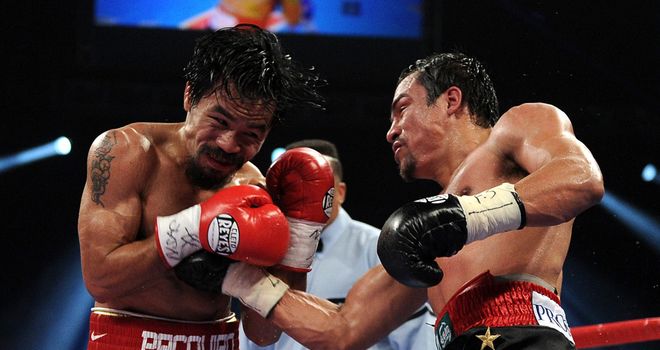 I feel really sorry for Juan Manuel Marquez, but I have to be honest and say I hardly fell of my couch when Manny Pacquiao was awarded the win.
You could argue that the Mexican has now won all three fights between them and I had him up by a couple of rounds this time. He was very, very good; looked sharp, looked strong and completely diffused the Filipino.
Pacquiao looked lacklustre and simply could not deliver. He has a lot going on in his personal life - including rumours of a problem with his wife - and showed signs, again, that he might well be past his best.
But, whether we like it or not, Manny Pacquiao is where the money is in boxing.
He is the one who generates millions; he is the one who gets the casinos packed out for fight weekend and he is the only one who can tempt Floyd Mayweather into what will be the richest fight the sport has ever seen.
And it's not just the two fighters who will make bundles; everyone connected with the promotion, the venue, the sponsorship deals will be quids in when these two meet.
I think they will as well. Mayweather has said he will box again in May and I am now expecting that to be against Pacquiao. Bob Arum wants to make a fourth fight with Marquez, but why should the terrific little Mexican even bother?
He feels he has beaten him three times now, yet the record books will show a draw and two defeats. And let's be honest, the whole of boxing wants to see Pacquiao-Mayweather.
You could just about understand one of the judges scoring it a draw, but how on earth Glenn Trowbridge gave it 8-4 to Manny beggars belief. We saw a shocking piece of scoring in this country when Ian John-Lewis gave Lee Purdy a wide decision in last week's defeat with Colin Lynes and we saw it again in Las Vegas at the weekend.
Excellent
If a trainer, or a fighter, messes up and does something wrong the British Board of Boxing Control or the relevant governing body comes down on them like a ton of bricks with some disciplinary action, usually a fine.
Well, how about they do it with their own? Trowbridge should be sat down in a room with the other judges and the WBO should ask just how he managed to give two thirds of a fight to a man who was clearly second best on the night. At the very least he needs to explain how he came to that conclusion.
Marquez was excellent and at 38, looked stronger, sharper and smarter than ever. It is a couple of years now since I visited him in his brother Rafael at their gym but I will never forget how friendly and welcoming they were - which made it even harder to take.
But Juan Manuel's problem is he is not the box office draw, is he? He will not generate the millions Pacquiao will in his next fight and he certainly won't get another crack at Mayweather because when they met in September 2009, he couldn't lay a glove on him.
Boxing wants Mayweather-Pacquiao and maybe the judges are no different to the rest of us. We are not talking about people being paid off here, far from it, but the backdrop to this fight and what could happen next was ion everybody's minds.
I just hope for Marquez's sake as much as anything that megafight happens now. It is bad enough him being treated like that but for no reason other than more toing and froing, more childish bickering between the two best fighters on the planet? That would make it even worse.
I have a feeling we will be hearing from Floyd himself in the next few days. I think, like me, he has watched Pacquiao closely and realises now that he is not the same fighter he was. He was disappointing against Mosley, out-foxed by Marquez and there is no way he even came close, in either fight, to doing what he did against Ricky Hatton or Antonio Margarito.
I always had a feeling Floyd was biding his time, waiting for Manny to show signs of decline and I think that is what we are seeing now. Saturday night also showed us what I have said all along: that Mayweather beats him, too.
Difficult
Pacquiao did not know what to do against a guy who was counter-punching smartly, smashing that right hand home almost every time and even when he was caught, came firing back with two, three, four shots of his own.
It was fitting, given the timing of the fight, that Marquez proved he had Pacquiao's number, much as Joe Frazier had shown us all those years ago that he was the one man who could make life difficult for Muhammad Ali.
There was another heavyweight in that era who The Greatest could not come to terms with, though: Ken Norton. Ken won one and lost two of their fights, but you could argue, like Marquez, that he won all three. But it was Frazier who would be forever linked with Ali.
The simple reason for that is that Norton didn't bring the big bucks to the table. And I am afraid to say that is what's happened to poor old Juan Manuel Marquez here. Had it been a whitewash against Pacquiao the judges would have had no choice but to give him the win, there would have been no room for them to do anything else.
Justice was not done at the MGM Grand, but human nature played its part because every single one of us wants to see Mayweather and Pacquiao get into the ring together.
And, having sat there and watched it all unfold, I am sure Floyd Mayweather will soon be adding his name to that list.