'A pure fighter'
Glenn McCrory pays tribute the late Joe Frazier, who will be remembered as one of boxing's all-time greats.
Last Updated: 08/11/11 12:21pm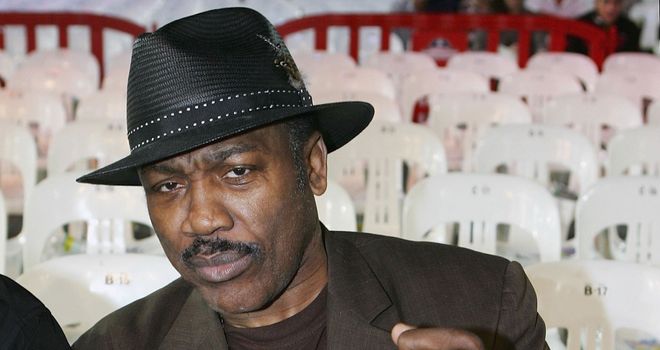 It is terribly sad news to see that Joe Frazier has passed away.
For a start, 67 is no age really is it? And secondly we never really thought he would leave us before Muhammad Ali. But he has, and boxing has lost one of its greatest characters, certainly one of its greatest heavyweights and one half of the greatest rivalry our sport has seen.
Joe and Ali went hand-in-hand. You still can't really mention one without mentioning the other and although Ali called himself The Greatest, the simple fact is that it was Joe who won the Fight of the Century. That tells you all you need to know about Joe Frazier the fighter.
The nickname Smokin' said it all. He was always red-hot, always intense and you knew when you watched Joe that the action would be non-stop. He was like a rampaging bull; always on the move, he was always bobbing and weaving, always looking to land first and that left hook of his must go down as one of boxing's greatest shots.
He was not big either but his spirit and attitude meant he could match bigger guys - and beat most of them. Every small fighter since, like Mike Tyson, has adopted the Joe Frazier style because it was the best way of compensating for a lack of inches. The ferocity he brought to a ring has rarely been matched and the way he put his life on the line to win a fight on more than one occasion, set him apart as an all-time great.
Had Joe have boxed in any other era, he would have been the stand-out fighter of his time. It was just his bad luck to be around at the same time as Ali - or was it his good fortune?
I say that because everyone needs something, a challenge or a comparison to bring the best out of them and Frazier did that to Ali. Yes, Ali was The Greatest in my opinion, but I don't think he would have been without Joe to test him, and I am sure he will admit that himself.
I, like so many kids growing up at that time, idolised Ali. Most kids over here in Britain did, because he was funny, smart, articulate, good-looking and a wonderful fighter. No-one ever seemed to be on Joe's side and that is something he had to deal with. I do think it went over the boundaries at times and I do think Joe never really got over it.
They were different personalities and I don't think he could understand how anyone could say those things without meaning them. To Ali it was a bit of a laugh, but for the rest of his days Joe couldn't accept that. He was a deeply spiritual man but I do think he found it too much to forgive.
Super-human
Every rivalry needs a good and bad guy and it was just that was Joe's lot. He wasn't into the media stuff, selling tickets and going on talk shows; he was just a proper fighter who wanted to fight, wanted to do his talking in the ring. He didn't need gimmicks.
Joe was a pure fighter. Philadelphia is a fighting city and he is their most famous boxing son that epitomised everything about the place. Life wasn't easy and you had to fight to survive and Joe showed in his trilogy with Ali that it was in him to go beyond human expectations and give his complete and utter all in the ring. No-one in boxing will forget those super-human efforts.
They have a famous statue in Philly paying tribute to a boxer and it is a crime that it is of the fictional character Rocky and not Joe Frazier. I am sure it won't be too long before that wrong is righted.
This will be a terribly sad time for his family who are part of the fabric of Philadelphia, too. The Fraziers, with Joe at the head, are a real fighting family and one I have had the good fortune to get to know over the years.
There are not many fighters that can say they have boxed in front of both Ali and Frazier, but I am one of them. Ali was ringside for my fourth professional fight in London, but Joe and his family came to the north east on several occasions.
Mischief
Back in the 1980s Frank Warren teamed up with the Fraziers, so when I boxed 'Two-Tonne' Tony Valesco at Stormont Maine, a working men's club in Gateshead, Joe's son, Joe Jnr, was on the undercard, where he lost to Simon Eubanks. Then, a few months later, Joe's nephew Rodney Frazier boxed on one of my undercards, along with Smokin' Bert Cooper.
That meant I spent a lot of time in the gym with the whole family and got to know them all really well. I still speak with his son Marvis occasionally and only recently was talking to him about taking an amateur team over to Philadelphia, where they still have the gym where Joe lived.
Just three months ago Joe came to Newcastle as part of a tour and was still the joker, still laughing. He had a real sense of mischief and a wicked sense of humour, even though people will think of him as the brooding bad guy.
Joe Frazier was quite simply a fighter in the purest sense. And if Ali was indeed The Greatest, I can assure you, he wasn't very far behind.