Bruise cruise
Glenn McCrory longs for a prime Evander Holyfield as Jean-Marc Mormeck faces Wladimir Klitschko.
Last Updated: 27/10/11 8:10am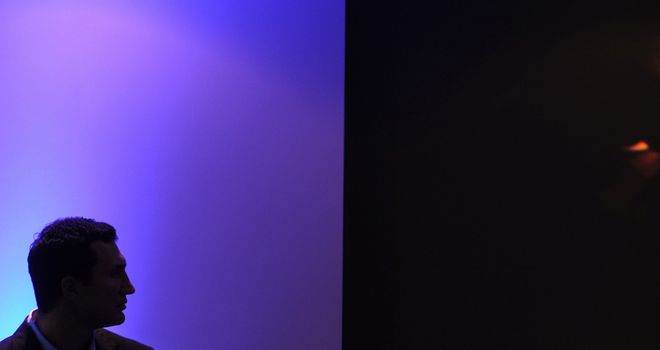 We will get to see the latest chapter in the Klitschko brothers' reign soon, when Wladimir returns to the ring for the first time since beating David Haye.
It is another chance to sit back and watch a master at work because, let's be honest, we don't know how long the brothers are going to go on for.
We should enjoy the ride while it lasts, we really should, because one day they will decide they've had enough, hang up the gloves and go and become the president of the Ukraine or something.
All we can hope is that before then, they are given a real test so we can really judge their achievements as heavyweight champions. They have already put themselves in the history books as two brothers who have dominated the division for close to a decade now.
In that time they have cleaned up, no two ways about it, which is why Wladimir is taking on another former cruiserweight in Jean-Marc Mormeck. He was a very good cruiserweight champion, but was beaten by David Haye. And none of us need reminding what happened when David took on Wlad, do we?
No-one knows better than me what the difference between a cruiserweight and a heavyweight is and I think the old adage a good biggun beats a good littl'un will prevail once again. It is hard enough making the leap to fight your average heavyweight but to take on a guy that stands 6ft 6in and weighs two or three stones more than you is too tall an order. It was for Haye and I think it will be for Mormeck as well.
In fact, I am not sure some of the greatest cruisers of all time, such as Bob Foster or Archie Moore, would have managed it either. In fact there's only one guy that has really had any real success moving up and that is dear old Evander Holyfield.
He held his own because he was totally and complete focussed on boxing, the consummate single-minded professional. He lives, eats and sleeps boxing every day - which is why he is still going at close to 50 - and was a superb athlete.
Had he been going in with a Klitschko - and maybe it's why he hasn't - he would have worked that hard, left nothing to chance that I would've backed him to prevail against either Wladimir or Vitali.
Opportunities
What makes the brothers so impressive is they are the grand chess masters. They have it all worked out as in who they fight, when and where, they do their homework, know their opponent inside out and in the ring, do not give you a single chance.
They don't take chances and in doing so, slowly but surely take away their opponent's opportunities. In the end, whatever they try, there is no way through and it ends up check-mate. Well, Evander was a chess master in the ring as well.
His physical fitness and strength meant out of any cruiserweight I can think of, that he would have matched the Klitschkos. He took a peak Lennox Lewis to the wire in both fights (although I have to say I don't know how he got a draw in the first), which says it all in terms of tackling the best heavyweights.
I think Holyfield would have too much rhythm for the Klitschkos. They succeed by making you fight at their pace, in their robotic way and they do it very well. Everyone who comes up against them has a plan but it is soon taken away from them. Evander worked so hard he would not have let them interrupt his flow; he'd have been the one man, cruiser or not, I'd have backed to get past the long jab and in where it matters.
Look at the shots Haye ended up throwing. They were silly, wing-and-a-prayer punches thrown out of desperation, just because he couldn't get close. Holyfield's squat style and relentless pressure makes him perfect for finding a way into that inner sanctum of the Klitschko defence, where he could go to work and bust them up.
I was actually Holyfield's No 1 contender at cruiserweight a few years ago but - luckily for me - he decided to step up instead. There will never be another Evander Holyfield and as long as the Klitschkos are still doing the business, there won't be anyone to come up and challenge them, I'm afraid.
Threatened
If you cannot match them, or better them, at the chess match like Lennox or Evander, the only person who is going to prevail against them is someone who is going to come along, pick up the whole bloody board and throw it away... like Mike Tyson! David threatened to do it but didn't and I see Mormeck has been saying similar things.
I admire his bravery and from what I can recall of him, he is a hard man who will come forward. But there is not much subtlety to his work and thanks to David, he was not even the best cruiserweight of his time, never mind all-time - which is where I'd put Evander.
Like all of you, I will still watch with interest, if only to see how impressively Wladimir deals with Mormeck and I guess we will all be hoping he can cause him problems, even if he doesn't pull off the win.
And if it goes to form and Klitschko does win, I don't think the heavyweight division will be in crisis. And if it is, it is something we have seen before. The Klitschkos between them have taken care of the lot and this does happen from time to time, especially at heavyweight. It's nothing new.
It happened when Rocky Marciano reigned supreme, it happened when Jack Dempsey reigned supreme and it happened when Joe Louis was at the peak of his powers. These guys beat all-comers and cleaned up, leaving the cupboard completely bare.
Which is why Mormeck, at less than 6ft, gets his chance to stand up against one of the best heavyweight champions of the modern era. He might, though, be better off challenging him to a proper game of chess.