Go for Berto!
Andre Berto is an American name with a world title - and the perfect foe for Kell Brook, says Glenn McCrory.
Last Updated: 12/10/11 2:14pm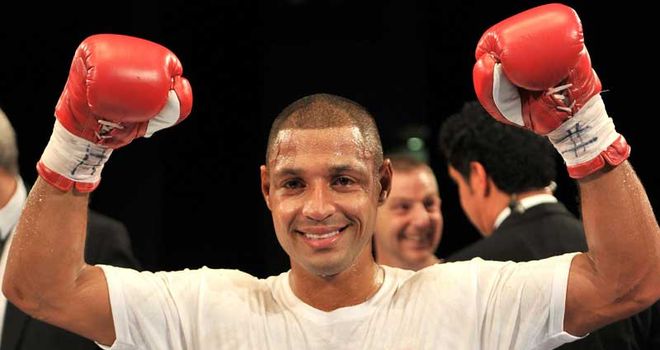 Kell Brook turned in a very, very classy performance on Saturday night.
He made Rafal Jackiewicz look like a journeyman, which he's most definitely not. He couldn't have been better suited for Kell to look good against, but he has some decent results on his card, has fought for the world title and is a serious European contender.
But against a tough opponent, Brook did everything right.
When a young prospect emerges - and we've all been aware of him for some time - you look for the weaknesses in his game, what he doesn't do well or what he struggles with. I'm being totally honest when I say I can't see any with Kell. It's hard to find a negative.
What I like best about him is he has got the famous Ingle style to his boxing, but is still very textbook in what he does. He keeps his hands up nice and high, his balance is great, the defence is good, he is patient and when the time comes, he is a very good finisher.
I know Jackiewicz's team were complaining vehemently about the stoppage coming too early and maybe it was a touch, but nothing suggested he was going to win. There was nothing coming back, he was taking a systematic beating and you have to ask when a fight is that one-sided, how much do you let a guy take?
What was most impressive was the fact that Brook didn't even get out of second gear.
That proves he is better than the level he has been fighting at and now is the time to give him a proper test. That is the one thing lacking at the moment. Yes, he has had some good wins, but if you look at the stand-out names on his record they were maybe just past their best. Lovemore N'Dou is a decent scalp and he has extended some very good fighters over the years, but all of those good fighters beat him.
Plateaued
Brook is clearly a very good fighter but what he needs now is a real live opponent, someone young and fresher than dear old Lovemore, or Michael Jennings.
Personally I would go straight for Andre Berto. Eddie Hearn has said Lou DiBella and Golden Boy are up for it, so why not? They want to get Kell in against the big names in America and Berto is just that. He has just become a world champion again after beating Jan Zaveck for the IBF version and he is a name - and is beatable.
When he first came to our attention many people had him down as a superstar in the making, but his career has plateaued a bit. I was ringside for Sky Sports in Florida when he fought Carlos Quintana in April last year and I remember saying on commentary that he was the perfect opponent for Brook.
It strikes me as the perfect opportunity to make his name in America and win a world title. Of course, Berto is a tough, tough test, but it's one I think Kell can come through. And he is going to need a world title to his name if he is going to make an impact in the welterweight division and get those superfights that are out there at 147lbs.
If he wants Floyd Mayweather or Manny Pacquiao to listen to him, then he needs to bring something to the table, like Ricky Hatton did, otherwise he will have no bargaining power whatsoever. Every boxer wants to test himself against the very best, but you want to do it on your terms as much as possible, not just get tossed an opportunity, a shot to nothing.
Eddie Hearn is talking about getting Brook on Carl Froch's undercard in Atlantic City on December 17 as well, and I think that's a great idea. Like I say, he didn't even get out of second gear, so he should be fresh enough. And if they want to crack America, the sooner the better. A fight against a decent American would certainly ramp up the interest for the Berto fight.
Cocksure
Amir Khan is also a very realistic option. Amir is talking about moving up to welterweight and if he does he will get a straight shot at one of the one titles, and rightly so. I know he is very, very aware of Kell and that would be a fantastic fight for British boxing, between two young men on the up.
And two young men who are still getting better as well. It would take you back to the days of Benn, Eubank and Watson and could well be one of those rivalries that would grip the country.
Kell does have that appeal as well. I can understand the comparisons with Naz, but he is not as outrageous, mouthy or as cocksure as he was. But then again, that means he does not rub people up the wrong way as much as Naz used to either! Kell is a likeable kid and that is another box well and truly ticked.
The one question mark I always had against him was his temperament. His problems outside the ring have been well-documented and he strikes me as a lad who used to like a good time, but to be fair to him, he seems to have sorted that out and knuckled down.
A boxing career is only short and it is all there for him, so now is the time for him to capitalise. Kell in the best division in boxing right now and he has the chance to make himself a household name, fight the best in the business and make millions along the way. It really is a fabulous chance for him; let's hope he can take it.