Happy in the valleys
Glenn McCrory says Gavin Rees can win another world title and carry on the resurgence in Welsh boxing.
Last Updated: 06/10/11 8:24am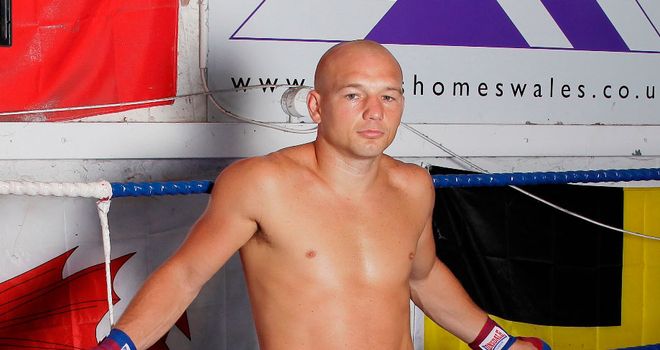 Rees can come again as Welsh boxing rides high
The ending might not quite have been what everyone wanted, but it was great to see the resurgence in Welsh boxing continue on Saturday night.
You have to feel for Derry Mathews because no-one wants to see a fight stopped after an accidental clash of heads, but to be honest, I thought little Gavin Rees was just starting to warm up when the fourth-round stoppage came.
His timing improved as the early rounds passed and he was just starting to get under shots and come back up and land his own - which in itself is what led to Mathews picking up that nasty injury to his nose.
I have no doubt that Derry will get the rematch but again, if I'm honest, I still think Rees will eventually have too much for him.
Rees is, to my mind, a bit of enigma. He is tiny for a lightweight, at 5ft 7in, yet he was a world champion at light-welterweight, and it seems he has had trouble with his weight as well. It just doesn't add up, does it?
But you cannot deny he is a talented boxer. He's still only got one defeat in 37 fights and that came against a very, very good Andriy Kotelnik - whose performance against Amir Khan, when he took him the distance, proved he was world class.
Rees pulled off a bit of a shock in winning the world light-welterweight title against Souleymane M'baye, when no-one gave him a chance and I would say here and now that he has every chance of doing the same down at lightweight.
It wouldn't surprise you in the slightest because of what is going in Welsh boxing right now.
There are some cracking little fighters coming through and some very good young trainers. Tony Borg has masterminded brilliant wins for Lee Selby and Gary Buckland and the man in Rees's corner, Gary Lockett, is a guy I think has all the makings of a top trainer.
Gary is not long out of fighting himself, but he was always a smart fighter, a clever kid. What I like most about him is he is he doesn't seem to get too emotional. When you are in the corner you have to keep calm and even though you are desperate for your man to win, you cannot make decisions with your heart, they have to be made with the head.
Gary was like that in the ring and it strikes me as if he is going to be like that as a trainer as well. They seem to have got Rees's diet sorted, because there is no doubt he faded dramatically in his last two fights - even though he still got the wins - and with Lockett in charge, it looks like the little fella might be big news again.
Shadow
Of course, all the Welsh boxers are aiming to get where Nathan Cleverly is right now - a world champion.
He's next up and I really do think he is in for a tough night against Tony Bellew in London. Bellew is very, very confident and we've all loved watching him talk the talk; well now it's time for him to walk the walk.
You would have to make Nathan the favourite, but what makes him so good to watch might turn out to be his downfall, because we know at some stage of the fight he is going to want to stand there and trade blows. Bellew is a heavy puncher and if Nathan does take the bait - which I am pretty sure he will at some stage - he could get caught.
But he is a smart kid, he's well-educated and he's got a good team around him, so it's hard to see him getting upstaged.
He is at the forefront of Welsh boxing right now and has gone a long way to making sure they have moved out of the shadow of Joe Calzaghe and Enzo Maccarinelli.
It is one of those regions that loves its boxing. I can tell that just from the amount times me and the rest of the Sky Sports team get recognised when we are there; everyone in the street says hello!
It's the same with Liverpool and Newcastle, but I am sad to say that my local area hasn't really kicked on and become the boxing hotbed we'd all hoped. The North East had a great era with myself, Billy Hardy and John Davison, in the 1980s, but no-one every really took on the mantle.
Wales has a new generation of fighters and young trainers who are all starting to get their rewards for keeping their heads down and working hard. Promoters are no longer protecting their champions as they used to, so the likes of Rees, Buckland and Selby are finally being given a chance to shine. That's great for boxing and great for Wales.