Amir Khan win over Julio Diaz raises questions about his next move
After a thrilling fight night in Sheffield, Johnny Nelson wants to see Amir Khan take on Kell Brook.
Last Updated: 30/04/13 3:58pm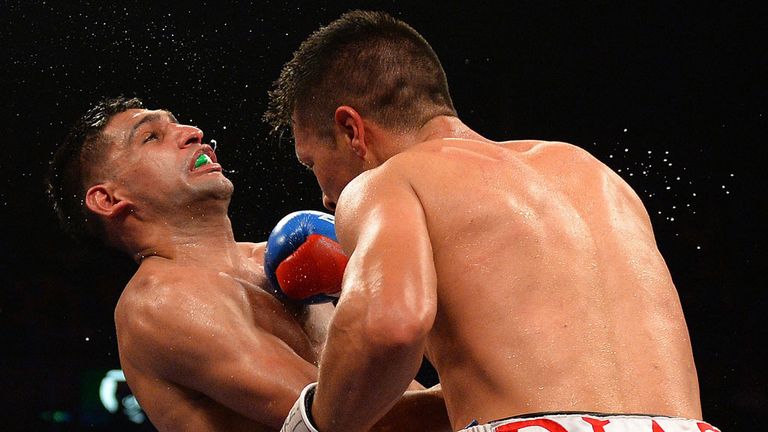 Khan showed why he puts bums on seats and sells out arenas when he went down in the fourth before fighting back to take the victory - he's so unpredictable and, whether you reckon he'll win or lose, you can't take your eyes off his bouts.
There was a great atmosphere at the Motorpoint Arena and, after the fight, Golden Boy CEO Richard Schaefer spoke about Khan getting a shot at a title in December.
But, for me, Saturday threw up questions about who you can put Khan in with and is he going to get hurt, is he still part of the world elite - and would it be wiser for him to take on Kell Brook in a big domestic fight?
A showdown with Brook would be a fascinating fight - but Khan no doubt wants to be challenging for a world title again soon and there were signs against Diaz his work with trainer Virgil Hunter is paying off.
This was just Khan's second fight under Hunter's tutelage but when he went down, although you could see him initially consider following his instincts and turning the fight into a brawl - as he did with disastrous consequences against Danny Garcia - he instead opted to box sensibly and regain his composure. That was Hunter's influence playing out.
But, for all Khan is learning from Hunter, he is still vulnerable - and that is what makes him so exciting.
However, if he is to reach the top again I feel he needs to move to the US and increase the amount of training he does.
When he told me he doesn't train outside of training camps I was shocked. You can't be disappearing in-between fights and just turning up for the camps because everyone will catch up with you. You need to be in the gym keeping yourself ticking over.
End
Another vulnerable fighter was on show this weekend - but there was no way back for Audley Harrison after his 70-second knockout by Deontay Wilder.
The 2000 Olympic champion bounced back from a first round defeat to David Price in October by winning Prizefighter in February and was talking up his chances of securing a title fight.
But defeat to American Wilder on Saturday leaves the Brit with very few options.
There's the possibility someone on their way up who wants to use him as a stepping-stone will give him an opportunity and he can pull off an unexpected win but I'm not sure how he can convince himself he should be fighting again, let alone a promoter.
He prepared for this match-up really well, he did everything right and came to the ring at a great fighting weight. There was no reason for him to lose. But he got blasted out.
So what does he do now? Perhaps it is time he considered hanging up the gloves.