Nelson: Nathan Cleverly deserves credit like exciting Tyson Fury
Johnny Nelson enjoyed Tyson Fury's US debut but says Nathan Cleverly deserves the spotlight, too.
Last Updated: 28/04/13 12:33pm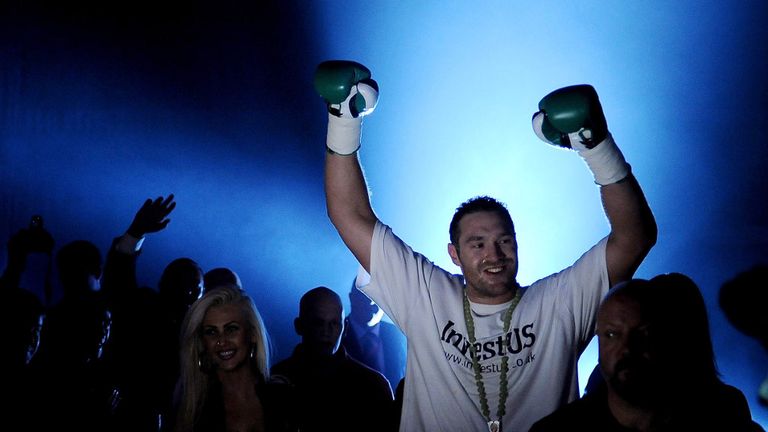 The Manchester-born heavyweight got up off the canvas to stop former cruiserweight king Steve Cunningham at Madison Square Garden and his performance in the ring - coupled with his showboating before, during and after the fight - has got people on both sides of the Atlantic talking.
Regardless of whether you think Fury is vulnerable and beatable, you're going to want to see him again; even if you're not interested in boxing, the action, drama and theatre he brings to the ring gives you everything you want in one package.
The heavyweight scene needs a mouthy, capable, villain who can win, put people down and who gets put down himself. You may go to watch Fury win, you may go to watch him lose - but he's what the division needs at the moment.
In terms of his performance on Saturday, I don't think he could have done any better.
People have criticised him for being put down by a former cruiserweight but he still got the job done against someone who's been top of the world and who has boxing ability, speed, strength and fitness.
He used his attributes - his height, his weight and reach - and he figured Cunningham out. The mistakes he made can be ironed out and remember he's still a relative novice in terms of the number of fights he's had and who he's fought.
You'd say a match up with Wladimir Klitschko - which Fury could get if he defeats Bulgarian Kubrat Pulev this summer - is too soon for the 24-year-old, but if I was Wladimir, I'd fight him now.
Wladimir knows all about Fury as he's sparred with him, but does he ignore him now, allow Fury to get more experience and get better and then fight him two years down the line? Or does he think 'I'll fight this kid before he really knows what he's doing'?
I know what I'd do.
Impress
However, while Fury grabbed the headlines this weekend, WBO light-heavyweight champion Nathan Cleverly despatched Robin Krasniqi at Wembley Arena with another impressive display.
The Welshman is a technically sound fighter but unfortunately he's not getting the praise, attention and spotlight I think a world champion of his ability should have.
There can be many reasons why that is the case but it must be very frustrating for him. Perhaps it's down to periods of inactivity, maybe it's because of the choice of his opponents or the opportunities that are there for him. I'm not sure.
However, there's talk of him going Stateside and linking up with a trainer out there and that's a brilliant idea.
The best thing I did in my career was travel the world being a sparring partner because it gave me experience, confidence and made me a more rounded boxer.
Amir Khan is a great example - after losing to Breidis Prescott he took himself abroad and became a worldwide star. That's what Cleverly needs.
Fresh
On paper, a fight with Bernard Hopkins would be a match-up that would raise his profile - but in reality it won't happen.
At the back end of my career I knew I couldn't keep up with the pace of the youngsters coming through - and Hopkins is a couple of years older than me.
Instead, you have to outfox, outbox and outmove them. Hopkins does that and gets into the mind of his opponent. But Cleverly is too fresh, too raw and too unpredictable for Hopkins to control.
Hopkins is world champion and has done so much in his career so he can pick and choose his opponents, so I don't see him getting in a ring with Cleverly.
One man who is on his way to becoming a global star, meanwhile, is Saul Alvarez.
Some people were tipping him to lose to Austin Trout on Saturday but he unified the WBC and WBA light-middleweight titles with a unanimous points win.
It seems silly to say but world champion Alvarez isn't yet the finished article. Being a world champion isn't his limit. He can be a modern day classic fighter.
He's still relatively a boy but has the makings of a superstar.