Mikkel Kessler is looking in good shape, says Johnny Nelson
Johnny Nelson blogs on his behind-the-scenes visit to Mikkel Kessler's training camp in Denmark.
Last Updated: 15/04/13 3:09pm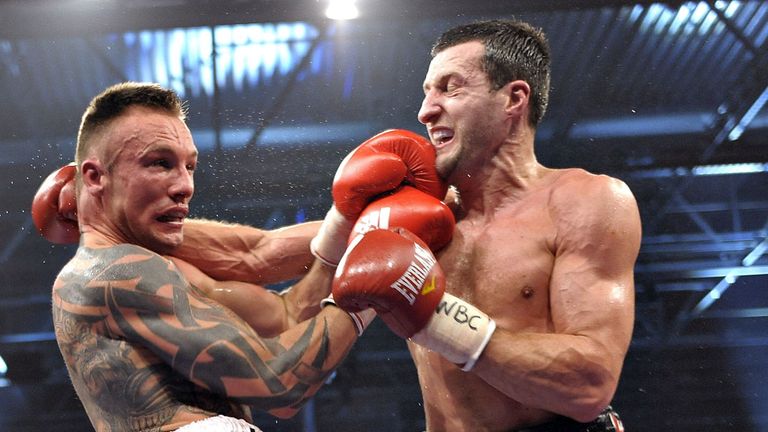 You can watch some footage from my trip again here.
While I was in the gym watching Kessler in action it struck me how similar he is to Froch, in terms of his attitude to training and the amount of work and commitment he puts into getting himself ready for a big fight.
Between sessions I got the chance to chat to him about his opponent and Kessler, as he has been since the fight was announced, was very respectful of Froch - even when the cameras weren't rolling! I got the impression Kessler is really looking forward to the fight and is very confident he'll come out on top.
I also got to speak with Kessler's trainer, Jimmy Montoya. The pair of them seem to work well together and in Montoya Kessler has found someone who can motivate him, inspire him and push him to new levels in the gym.
During my time there they were focussing on getting solid shots in but it's clear they have a game-plan in place to stop Froch fighting the way he wants to as well.
We saw when Froch and Kessler first fought in April 2010 that Kessler wants to go toe-to-toe with his opponent, while Froch's best chances of success are if he gets inside, does his work and then gets out.
Now, Kessler, as he did in the first bout, wants to make it a war with the Nottingham man and dominate the centre of the ring again. When Froch moved in and out during that first fight he disrupted Kessler and prevented him from working at a pace. That frustrated the Dane and Froch was actually out-boxing him for periods midway through that fight.
So, this time Kessler's focus is on cutting off the ring, closing Froch down and keeping the pressure on him. They were working on that in the gym while I was there - but it will be interesting to see whether they can pull it off on the night, because of course Froch will be trying to implement his own tactics as well.
Workout
Also in Kessler's gym was former European light heavyweight champion Danny McIntosh. The experienced English boxer is acting as a sparring partner for Kessler - and he told me he's loving the opportunity of training and fighting with the WBA champion.
Normally in Europe they like to break their sparring partners down, physically and mentally. To me, that doesn't make any sense - surely you want your sparring partners on a high so they perform to the best of their ability against you?
Well, that's exactly how Kessler feels as well. Danny told me he's been treated to meals out and put up in nice accommodation by Kessler's camp. He's relishing his role out there and, as a result, giving Kessler some good workouts in the ring.
We'll see whether all that hard work pays off next month.
This week I'll get to see the other side of the coin when I travel to Froch's training camp to gauge how his preparations are going.
I'm sure he'll be working just as hard as his Danish opponent - and seeing the amount of commitment each of them is putting into this fight is really whetting my appetite for this huge bout.
It's going to be a great night at the O2 next month!