Tony Bellew must learn from Isaac Chilemba draw, says Johnny Nelson
Tony Bellew will have learnt a lot from his frustrating draw with Isaac Chilemba, says Johnny Nelson.
Last Updated: 01/04/13 12:11pm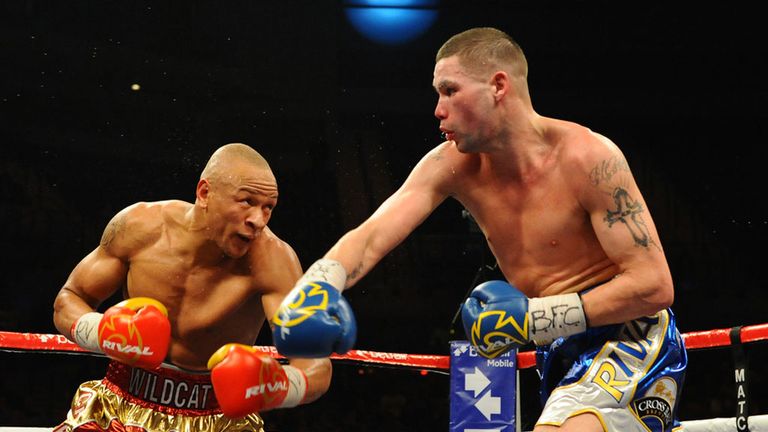 Bellew thought he had it, Chilemba thought he had it, Bellew's promoter Eddie Hearn thought his man had it by one while Bellew told Sky Sports Chilemba's trainer, Buddy McGirt, felt the Liverpool fighter had just edged it.
We were divided in the studio as well. But, personally, I can't disagree with the decision to share the spoils.
Bellew was excellent for the first half of the fight and put Chilemba under pressure. That's the only way you can fight the Malawian.
However, halfway through Bellew changed his tactics and that gave Chilemba confidence. He found some rhythm, got into his groove and made things awkward for Bellew; from there on the Brit found it very difficult to pin his man down.
Bellew has been criticised in some quarters for taking his foot off the gas but I can understand his mentality. Remember, a shot at the world title was on the line here and Bellew, believing he was comfortably ahead in the fight, decided he didn't want to take any chances and played it safe.
Unfortunately for him the judges didn't have the fight as much in his favour as he believed it was and in the end both boxers were left frustrated they hadn't quite done enough to convince all three men at ringside they deserved the win.
I know Bellew trains like a demon for his fights and will be disappointed, while Chilemba was desperate for his big shot as well, but it's just one of those things. As John Conteh told Sky Sports on the night, both fighters will have learnt a lot from the bout. Bellew just needs to take those lessons on board, accept the criticism and move on.
He has called for an immediate rematch but it doesn't always work like that in boxing. Doors may open for Chilemba now - or the WBC champion Chad Dawson may give one of them a shot if, after watching their fight on Saturday night, feels he could take care of them.
We'll have to wait and see where Bellew goes from here.
Even
There was also a draw on the undercard in the rematch between Derry Mathews and Anthony Crolla for the Commonwealth lightweight title. And what a cracking fight it was.
Before the fight I thought Mathews would prevail - as he did when the pair first met in their Fight of the Year clash in 2012. I knew Mathews had committed so much preparing for this one and it seemed Crolla was a little shell-shocked at the start.
Mathews had the maturity and belief and it was working for him for the first seven rounds. He was on top of Crolla and putting his opponent under pressure.
Then, all of a sudden, he hit a wall.
You could see in Mathews' face the wheels were coming off and his concentration started to go. Mathews wasn't producing the same work he had earlier in the fight and that allowed Crolla's boxing ability to come through.
His strong finish earned him a draw and I'd love to see them go at it for a third time. I'd still champion Mathews because of his work ethic but that comeback will have given Crolla so much confidence.
Sporting Hero
You may have seen me interviewing former world heavyweight champion Tim Witherspoon for Sporting Heroes recently.
If you missed it you can watch it via Sky Go here.
He's such a down to earth guy but had some very interesting tales to tell about the 'lost generation' of heavyweight boxers, his former sparring partners and the things they went through with Don King.
It was fascinating, enthralling and certainly eye-opening.