Johnny Nelson says David Price must bounce back from defeat and praises Audley Harrison
Johnny Nelson says David Price must show resolve - and Audley Harrison is the 'three-round king'.
Last Updated: 25/02/13 11:32am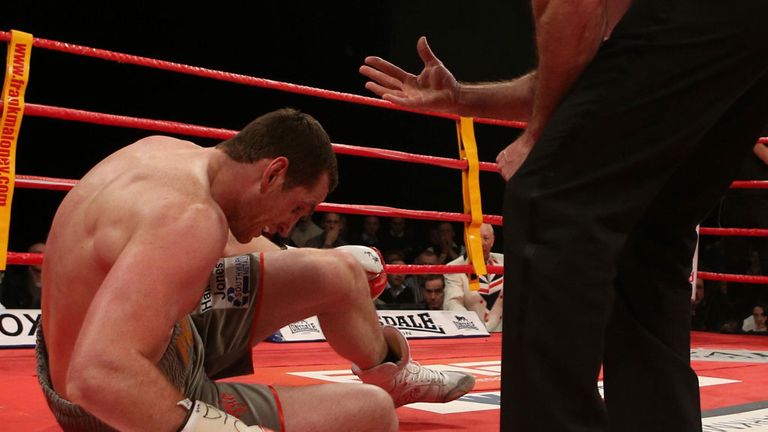 There were whispers before the fight that Price didn't want to face a boxer like Thompson - who had a 36-3 record before the fight, with two of his losses at the hands of Wladimir Klitschko - but that's got nothing to do with the result.
He was hit with a good shot behind the ear and when that happens it messes with your equilibrium and you lose your balance. People are saying Price is 'chinny', but I don't believe so. He got caught and there are many fighters who have been knocked out or put down and come back to dominate the world - Lennox Lewis being a prime example.
Getting knocked out isn't terminal to your career. Manny Pacquiao got knocked out and no one is writing him off. It's just the fight game we're in.
But, just as when Lewis was stopped by Oliver McCall, it's all about how Price comes back from his defeat. How will it affect his confidence? Will it affect the way he fights? We'll have to wait and see. Price is going through a learning stage in his career and he learnt a big lesson on Saturday night. Let's see how he responds...
His opponent Thompson made headlines on Saturday night with his win but he was also in the news ahead of the fight for his comments on doping. He said: "They should just allow doping, period. To me, it's like the gun law, only the good guys are listening so it leaves the good guys without the guns."
Thompson is clean but he was just being a little facetious to try and out the cheats. We know there are cheats in boxing because people are getting busted.
There are probably a lot more doing it than we realise but until we bring in blood testing for every fight we won't get to the bottom of it. Lance Armstrong has shown you can get away with it for many years so we need to work harder to out the cheats.
Thompson was just playing the devil to stir up the argument and raise the issue. He wasn't saying he agrees with drug taking, people just took it the wrong way.
Three-round king
While Thompson was celebrating his win over Price in Liverpool another 41-year-old, Audley Harrison, won his second Prizefighter title, defeating Derric Rossy in the final.
Harrison has taken an awful amount of flack over the years - some of which he's brought on himself - and that hurts you. No matter how much you pretend not to hear it, when you get abused it hurts.
I know that for a fact because it happened to me. I know what it does to you emotionally and how it makes you feel, so good on him for coming back and winning on Saturday night. He's had a rough ride and he deserves to enjoy this good moment.
He came into the Ringside studio last Thursday and I thought he looked in great condition but I was thinking 'I've put faith in him before and he's slipped up'. However, on Saturday he proved he's the king of the three rounders. He did it in the Olympics, he did it in Prizefighter in 2009 and he did it on Saturday. He's got that format down to a tee.
He says he's in the shape of his life and I agree. You just wonder why he hasn't done this before. Unfortunately, at 41, and given his failings in the past, I'm not sure he's going to be given the opportunities to fight for the world title he craves.
If you're a promoter or a businessman, you're going to think 'when it comes to the top level can we depend on him 100% to come up with the goods?' I think a betting man would say no. So the chances - even if he could pull it off - are probably slim.
Audley looks like he believes in himself now but the people who believed in him in the first place no longer believe in him. He's saying 'look, I can do it' but, unfortunately for him, I'm not sure anyone is listening.