Johnny Nelson blogs on Carl Froch and Mikkel Kessler's rematch and Kell Brook's delay
Carl Froch and Mikkel Kessler's May match-up is a mouth-watering prospect, says Johnny Nelson.
Last Updated: 06/02/13 5:52pm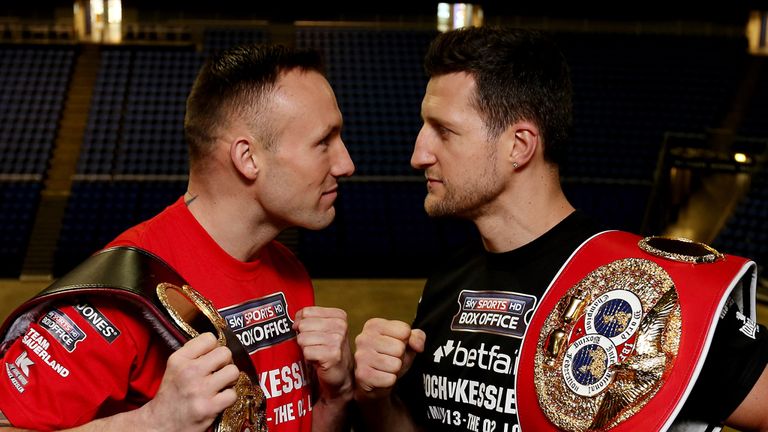 The pair of them were in Sky Studios on Monday to promote their May 25 rematch, which will be shown live on Sky Box Office, and when I spoke to them it was like speaking to twins.
Both Froch and Kessler have the same attitude towards boxing; they're men's men who don't need to shout, swear and cuss each other - but, at the same time, you know when the bell rings in the O2 Arena in a few months' time it is going to be a war.
Very rarely do you look at a rematch and think it is going to be a better bout than the original but you do with this one.
This is a real Box Office fight; a top line, quality fight. It is going to be a true blue-collar fight which the purists and casual viewers alike will respect and realise is a no-nonsense match-up.
Both fighters are so evenly matched but personally I just make Froch favourite at this moment in time.
I reckon, with a home country crowd behind him in London, the Nottingham man may have the edge, just as Kessler did when they first met in Denmark. However, you can't blame anyone for calling this one wrong!
Kessler looked in brilliant condition on Monday and the fight is still four months away, so he obviously lives the life. Froch said 'I'm genetically gifted', well, so is Kessler; the Dane looks like a supreme physical specimen.
It's certainly a fight which has excited the boxing public. Tickets went on sale on Monday and by Tuesday there were very few remaining.
Even in Denmark 8,000 tickets had been sold within 25 minutes. There aren't many fights which have that sort of pulling power - perhaps only Ricky Hatton's comeback compares in recent times in this country.
It's going to be a real tight, nail-biter on the night - but before then it will be fascinating to see all the build-up unfold ahead of a great night for British boxing.
Blow
However, Monday was also a very disappointing day for another British fighter with Kell Brook's world title challenge has been delayed as IBF welterweight champion Devon Alexander has a bicep injury.
It's devastating news for Kell, who's been training really hard for this fight for three months now. The fight was originally postponed from January when Kell had an ankle injury and now it has been put back again.
I've been getting a daily report on Kell's training and he's looking magnificent, so this is a major setback at this stage. His camp will now need to look at re-jigging things, but of course there's the risk of over-training and actually going stir crazy from being in serious training for so long.
Kell reportedly knocked out De Marcus 'Chop Chop' Corley a couple of days ago. Corley, a former WBO light welterweight champion, has been giving Danny Garcia hell for leather in sparring recently, so it wouldn't surprise me to hear Alexander is getting a touch nervous about facing the Brit - especially with so many people Stateside tipping Kell to win.
However, Kell is going to need a lot of mental strength to get through this and ensure that when fight night eventually comes round, he's as well prepared as he can be.