Johnny Nelson on Carl Frampton and the super-bantamweight division
Carl Frampton must avoid rushing into the world title frame and focus on 'the now', says Johnny Nelson.
Last Updated: 29/01/13 10:21am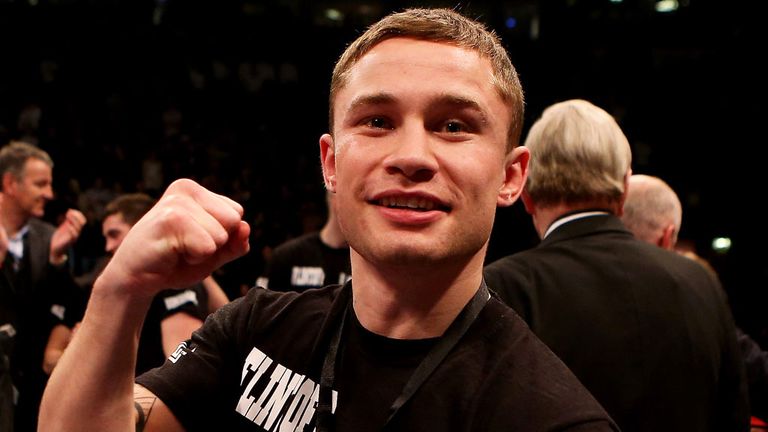 The Commonwealth super-bantamweight king can secure the European belt by beating Kiko Martinez in his native Belfast next Saturday, and many feel that he should be challenging for world titles very soon.
I would be taking things more steadily. The Irishman is still just 25 and I know his manager and former world featherweight champion Barry McGuigan is very shrewd with how he moves with him.
On the world level, the talk is that Nonito Donaire has been offered $3m to fight Abner Mares in a WBO and WBC unification bout, and I've got to go for Nonito to win it if and when the two face eachother.
Donaire is an outstanding fighter. I've seen him perform and he's a fully-fledged fighter in that division. Out of the three world champions at the weight, including Cuba's WBA champ Guillermo Rigondeaux, I see Donaire as the best and I expect him to come out on top against Mares in a hard battle.
I think Rigondeaux is possibly his closest challenger but it's about making matches. To be getting offered so much money, they must feel that the clash with Mares is going to put bums on seats and must be a credible match. It's obviously good business for promoter and TV, and from a boxer's point of view you may think differently. Also, there's no reason why Rigondeaux wouldn't fight the winner and the entire division become unified.
With regards to where Frampton is in comparison to these guys, he's definitely a level below. People are talking about him fighting for a world title at the end of this year but I think you're talking more like two years' time.
Frampton showed me he is a good fighter and I'm happy to hold my hands up and say 'good on you' to him - but He needs to go slowly and surely to make himself a fully-fledged fighter. McGuigan has to be careful with who he puts him in with because if he does it right, this kid has got everything going for him. His full armory is in tact.
Last time out, we saw Frampton stop former two-weight world champion Steve Molitor with an impressive sixth-round TKO but it remains a tough division for him. The landscape may have changed by the time he is ready. The current world champions are guys he shouldn't even be looking at and he needs to be patient.
In the meantime, it makes far more sense to me to prove that he's the best fighter on this side of the world. The Scott Quigg issue really needs to be sorted out because that fight would provide crucial experience.
I'd like to see Frampton clean up the division domestically. We all remember that Ricky Hatton achieved so much but there was always that question mark of why he didn't fight Junior Witter. That left open the whole argument of 'who would have won' and so Frampton needs to make his position clear.
Nothing stops these fighters going on and pursuing other goals after a fight - regardless of who wins and who loses - and it will tell us who is number one and who is number two. If you're looking at past performances, you'd give Frampton the edge but Quigg showed more variety in putting Rendall Munroe away in November.
As their fighting careers have developed, both Frampton and Quigg have improved massively. You can say Quigg's defence is a little more open than Frampton's and the latter boxes better on the front foot. You can only judge them on their last fight and from that, it's a very exciting division now - especially in this part of the world.
Danny's delay
In the light-welterweight division, Amir Khan's conqueror Danny Garcia has suffered a rib injury and has postponed his WBA and WBC defence against veteran Zab Judah until April 27.
Once you've got a rib injury, it's hard to step in to a fight like that. I've done it but I knew the guy in front of me and had the movement to slip out of the way and protect that side. Garcia is the kind of guy that puts on the pressure.
Judah will want to hit and move, so Garcia won't want any chinks in his armour because his opponent has the skill to out-box him. He has to be ready for war, and if has to dig deep he can still dig deep. Postponing it is the right thing to do - he's still the champion.
I see Garcia beating Judah and even knocking him out. Garcia is very underrated and exceptionally heavy-handed. Judah is a pretty and tidy boxer but I don't think he's got the finishing power to get rid of Garcia. If you make a yardstick of Khan, who stopped Judah in 2011, it should end up being a fairly routine night for Garcia.
Heavy expectations
Deontay Wilder is becoming a great American hope in the heavyweight division and has been eye-catching in knocking out all 27 of his opponents - most recently a second-round demolition of Matthew Greer in Mexico last week.
Wilder has been clinical. He's not had the best opponents but I know that behind the scenes he's taken himself off to spar with the best and prepare with the best. It's not his fault that the competition in that part of the world is not stiff enough for him to be tested.
I know he's been working with the Klitschkos and is a humbling sparring partner. It's a great learning curve for him and it's the best thing for him to do. We can't judge how good he is but we know he's doing everything correctly in that he gets rid of whoever's put in front of him.
When he can find a stiff challenge, we can judge whether he's something special or not. He's the perfect heavyweight specimen physically - young, athletic and clearly has the knockout power. Does he have that x-factor? We don't know yet.
You want to look at ex-title challengers soon and then we can gauge his level. Put him in with one of those and then we'll see. In terms of our own rising heavyweights, David Price and Tyson Fury, I'd say they're all at the same level despite Fury's victory over former world title challenger Kevin Johnson being the best form on paper.