Johnny Nelson chats with David Haye, Amir Khan, Carl Froch and Anthony Ogogo on The Gloves are Off
Johnny Nelson's gloves were off when he sat down with four famous fighters for a special show...
Last Updated: 22/01/13 10:22pm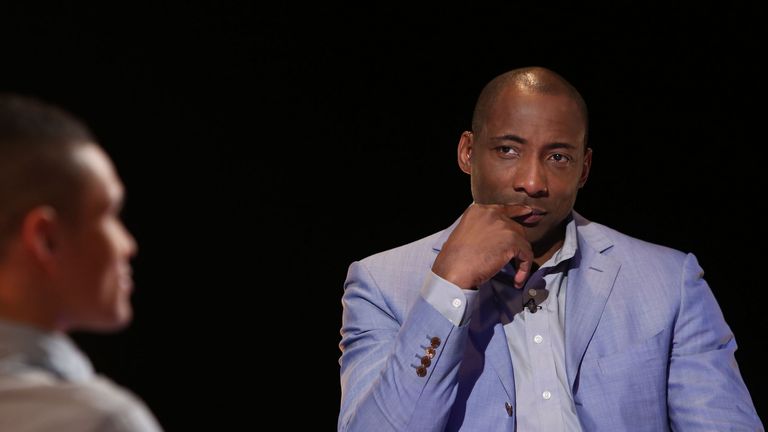 Britain's Best: The Gloves Are Off was something that I was part of, not as a presenter or analyser, but as a fighter - albeit a retired one.
To get David Haye, Carl Froch, Amir Khan and Anthony Ogogo around the same table was one thing. To join in with them was something else. But for them to open up was something that will stick in the mind. I hope you all end up with the same view.
The idea was to let viewers see the side no-one really knows. The fighters were apprehensive for various reasons as boxers, of course, are used to just giving what the press wants, the sound-bite here, the answer there, the stuff they think the public want to hear.
But this show, as Haye put it, featured the sort of conversations they would have in their cars, or with your mates anywhere. None of them had confirmed fights to discuss - Froch's was announced the next day - yet believe me, we got absolute gold dust.
If you want to know about the other side of a boxer, you will find this fascinating.
Normal
It's nice to get the meat on the bones, not just see the final article in the ring. We got enough sat around a table to say you now know the man behind each fighter, while you'll also hear one or two stories.
Yes, they are stories involving famous faces but I reckon plenty of you out there will be thinking 'I've done that!' or 'I'd do the same'. Why? Because these boxers are, after all, normal blokes. These are people.
When The Gloves Are Off kicked off, they were quite guarded, but trust me there will be plenty you won't have seen or known about all of them. Did you know Froch and Haye used to be team-mates? You'll also get a real understanding of Khan and his take on the public perception of him.
Ogogo, meanwhile, is turning into a celebrity already, but he is at the beginning where he is sat at a table opposite the people he wants to be like. The whole show was a learning process for him - and you at home, too.
As for me, well I was the oldest one around that table and there were plenty of stories from me, too. It was so refreshing, even for me, because I wasn't sitting there asking questions or analysing a fight; I was just chatting with these guys who are my kind of people.
We talk about retirement in the show and I am, of course, the only retired one there and I told them how hard it will be. The one thing I miss now I'm not boxing is that camaraderie so to sit around a table and chat - not about specific fights - was the highlight for me.
To see these world champions, the famous faces, feeling comfortable in their surroundings with other guys who go through the same thing was brilliant. You will see a side you never knew existed.
Apprehensive
It is well worth tuning in. And even if you're not a boxing fan, but a sports fan, I am sure it will appeal. It is something I would like to see done across the board, on other sports.
You have to give them credit, too, because there are a few who didn't want to do it. Yes, the four were apprehensive but I bet that those people said 'no' will watch the show and be kicking themselves.
No doubt people will be wondering why Haye, Froch, Khan and Ogogo were on the show; well they said yes. They made a bold move and said 'right, let's have some', and you will get an insight into the men behind the fighters, the men that are boys.
When you hear them talk, when there's banter going between them, they are boys. They could be your brother, your cousin, your dad or your uncle, but they are sportsmen. Sitting watching it is a rare chance to get up close and personal.
And, of course, I could chat all day about this show. But I don't want to give any more away...