Johnny Nelson blogs on Manny Pacquiao's defeat to Juan Manuel Marquez and James DeGale's development
Juan Manuel Marquez's knowledge of Manny Pacquiao's style finally paid off, says Johnny Nelson.
Last Updated: 11/12/12 1:14pm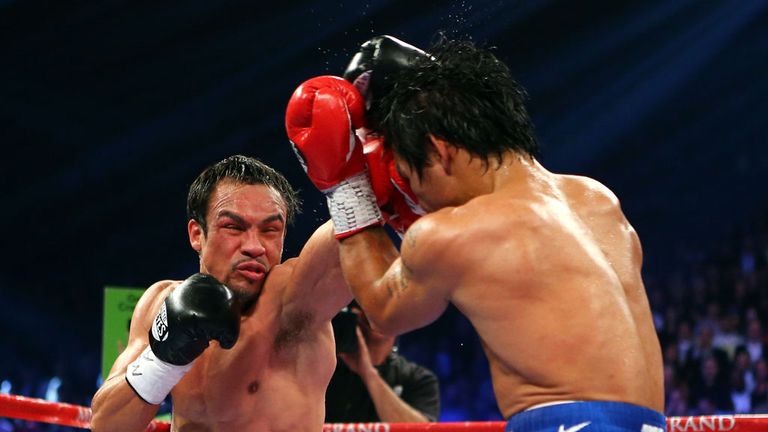 Pacquaio has now lost two fights in a row, following his points reverse to Timothy Bradley in June, and his recent performances have not been up to the standard that we expect, but he is still a draw, still talented enough and still has things to achieve.
The Filipino made a mistake against Marquez and he will want to put that right in a fifth meeting with the Mexican, while the public will feel cheated if he does not step into the ring with Floyd Mayweather - even though I think that fight is losing a little bit of its lustre.
It would be easy to say Pacquiao has lost a step after he suffered a sixth-round knockout at the weekend, but the truth is he has run into his bogeyman - as my colleague, Glenn McCrory, said before the bout on skysports.com - and each time they have fought, Marquez has learnt more.
Marquez knows Pacquaio better than any other fighter and over the course of their four meetings he has understood his strengths and weaknesses.
He knew how to deal with him, so he headed into Saturday's fight with immense confidence.
Marquez was no longer fazed by the awkwardness, the speed and the peculiar angles that Pacquiao likes to utilise and he finished off the 33-year-old with a devastating right-hand shot.
It was a very similar punch to the one Pacquaio levelled Ricky Hatton with in their fight in 2009, so it was very much a case of what goes around comes around.
Improving
James DeGale is an Olympic gold medallist but he is still managing to slip under the radar.
It is a shame he has been lost in the politics of the sport and that is why we have not seen too much of him, but he is doing very well without the glare of the spotlight on him.
DeGale picked up another win at the weekend, defeating Colombian veteran Fulgencio Zúñiga via a unanimous decision in Hull; he is improving all the time and learning the ins and outs of the job.
James was very brash in the build-up to his bout with George Groves in 2011 and I think he got too emotional, which may have been a big reason in his defeat to his British rival, but he has certainly grown up since then and I think big fights lie in store.
I would like to see him face Brian Magee, who was beaten by Mikkel Kessler on Saturday night; Magee is, of course, a former world champion and beating him would give James some prestige - and if he won that match who knows where that could take him?
He does not look like an obvious world champion at this stage, but I think he will become one once he has the appropriate experience at the top level; if he could knock off some ex-world titlists that will give him the confidence to push on.
Both DeGale and Groves will be looking to take over from Carl Froch when he retires and become Britain's top super-middleweight and, at the moment, I would say James might take that tag.
I like Groves, I like his intelligence and he is a strong kid, too, but I think that aggressive style, which has served him so well in the amateurs, will only get you so far and eventually he may get picked apart by more talented boxers.
James, though, is a tad slicker and if he had George's brain he would be unbeatable.
Should Pacquiao retire? Who should DeGale fight next? Le us know YOUR thoughts by filling in the feedback form below...