'Sad to see Ricky Hatton lose'
It was sad to see Ricky Hatton stopped but it was the best result for him, says Johnny Nelson.
Last Updated: 27/11/12 9:31am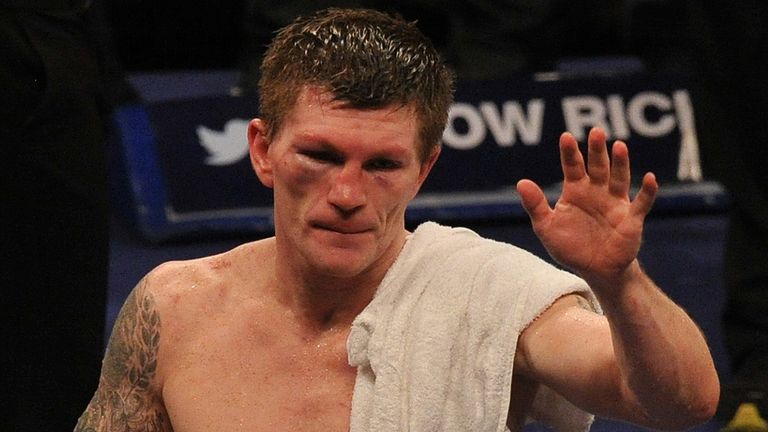 Ricky proved two things with this fight.
The first was that he's still the biggest draw in British boxing. Even ahead of this fight, when nobody knew who the opponent was going to be, he still sold 19,000 tickets in 48 hours. That's a great feat for anybody.
The atmosphere at the Manchester Arena was second to none; it was amazing. That must have been a lot of pressure for Ricky, but it would also have given him a great lift that so many people were there to support him.
However, the second thing the fight proved was that he can't fight at that level anymore. It was sad to see after two or three rounds the timing wasn't there; the instinct, the movement, the fluency and that snap he used to have wasn't there anymore.
If Ricky had scraped through and got to the end of that fight he might have put it down to ring rust, blamed it on his time out of the ring and boxed on.
But imagine him boxing Paulie Malignaggi, who he's already beaten. Paulie would probably have beaten him. Imagine him fighting Amir Khan or Kell Brook. These guys would have beaten him.
That's where the problem is. If he was heartbroken after the Manny Pacquiao fight he would definitely have been heartbroken losing to any of those three.
But, with that defeat, he's still got his pride. This fight wasn't about the money, everyone knows that, it was about redemption for Ricky himself.
He lost so much weight and fought a guy who'd only lost one fight to a guy who became world champion. He could have stepped in for a soft touch, an easy fight, but he didn't. He put the work in and believed he could return to that level.
I have to give it to Ricky but it brought a few tears to a lot of grown men's eyes seeing that happen. It's such a shame because we're not going to see anyone who can pack them out like he can for quite a while.
Positives
He now needs to sit back and somehow get his mind round what's happened and take some positives out of it. He can still pack them out after being out three and a half years and he knows that he's still loved and still respected.
I don't think the defeat has tarnished his record, either. Yes, before Senchenko he'd only lost to the best, Floyd Mayweather and Pacquiao, but this fight came at the back end of his career after a three and a half year absence.
Yes, he got stopped by a guy who isn't a big puncher with a body shot but that doesn't detract from what Ricky Hatton's done because he's given a lot of people some great memories in this country.
It just means he can't turn back time. Father Time came up on him and he can't be what he was. It doesn't mean everything he did in the past was nothing.
He was open, vulnerable and the timing wasn't there. But, no disrespect to Ricky, he's just not the fighter he was, that's all it means.
Hopefully it will give him closure to move on. When he lost to Pacquiao he thought he had a lot more left to offer. Now we know he hasn't anymore.
He thought he had a winning lottery ticket to cash but on Saturday night he realised the numbers were wrong.