Steel going strong
Johnny Nelson says Wladimir Klitschko's display against Mariusz Wach was one of the best of his career.
Last Updated: 14/11/12 9:00am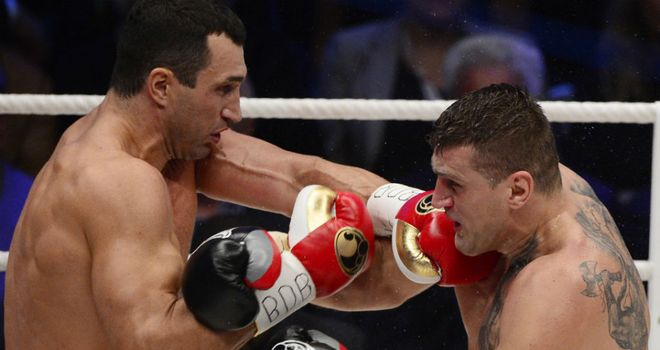 Wladimir Klitschko is the current kingpin of the heavyweight division and retained his quota of belts at the weekend by beating the previously unbeaten Pole Mariusz Wach.
You can question the ability of Wach, but I was very impressed by Klitschko.
I thought Dr Steel Hammer boxed amazingly and put in one of his best performances to date, which was made all the more impressive considering his mentor and trainer, Emanuel Steward, passed away only a few weeks ago.
Frank Maloney has said certain things about the fight, which Wladimir won on points, but I am a purist and I like boxers using their jab, footwork, hand-eye co-ordination and speed and he used all of that to record a very comfortable victory.
British heavyweight Richard Towers has been sparring with Klitschko recently and he couldn't praise the Ukrainian enough for the way he carries himself in and out of the ring and it comes as no surprise to me that he is improving as he gets older. Wladimir may be 36 but he has plenty left in the tank.
Adam Smith and I chat to Mike Tyson on this week's Ringside and that has made me think how great it would have been to see Klistchko and 'Iron Mike' square off.
I'm sure if you asked Wladimir who would have won he would swerve the question, but I can answer it: Mike Tyson would have given Wladimir Klitschko hell!
Surprised
Kell Brook wants to join Klitschko in the world champion's club and looks like he will get that chance in January, with his mandatory showdown with IBF welterweight Devon Alexander almost locked in.
I am surprised the fight may happen so soon because I thought Kell's next clash would be against Amir Khan, who is very keen to lock horns with his fellow Brit, so you really have to take your hat off to Brook's promoter, Eddie Hearn, for setting the wheels in motion.
The meeting with Alexander will be another step up the ladder for Kell, who will have to knuckle down over the next few months and not go wild at Christmas and New Year, as he won't be able to rely on the roar of the Sheffield crowd to pull him through.
The bout looks likely to take place in New York or Las Vegas so it will be interesting to see if Kell can perform at his usual high level when he is on the road, against a better quality of opponent than he has faced before and fighting for big jewels. He could become introverted or a fired-up animal - and I reckon it will be the latter.
Kell is too fresh, too aggressive, too accurate and too sharp for Alexander, someone who stunk the place out in his fight with Randall Bailey last month, struggled against Timothy Bradley and generally falters when the pressure is put on him.
I think that as soon as Brook gets his jab and right cross into gear, the American will fold. Let's hope I'm proved right.
Stratosphere
As I mentioned earlier, Mike Tyson will speak on Thursday night's Ringside and it will be a real treat for fight fans; Mike, who answered questions about his career, British fighters and boxing's current stars, can be interviewed a thousand times, yet each response will be as fascinating as the last.
I wouldn't say Mike's boxing style was my favourite but I loved what he did for the sport in terms of taking it into the stratosphere; everyone knew who Tyson was and that was great for the game. He was the first guy since Muhammad Ali to take boxing outside sporting circles and into the public domain.
Even though he had some cracking bouts, my greatest memory of Mike as a fighter was him taking out Trevor Berbick in two rounds to win the WBC heavyweight title; Berbick went down seven times from one shot!
In his pomp, Mike was top drawer and I think you could have put him up against Ali, Joe Frazier and Sonny Liston and he would have been a formidable opponent; he was aggressive, fast, exaggerated and intimidating.
He boxed too long as his style that I have just described is one that suits a younger man who has speed and instinct and when you get older those traits diminish.
That template worked against Mike in his final few fights, as it did to Floyd Patterson, Liston and Frazier - but he was sensational in his prime and no-one could touch him; I love Lennox Lewis but if he had fought Tyson a little earlier the result may have been different.
Mike is a lot more intelligent than people give him credit for, too; he may not have the academic qualifications to prove that, but he is very articulate and makes you look at things in a way you haven't done before.
I'm sure that will come across on Thursday night.