Johnny Nelson says Lucian Bute will never recover from his loss to Carl Froch
Lucian Bute's toils, Carl Froch's next bout and the cruiserweight division... Johnny Nelson talks boxing.
Last Updated: 06/11/12 10:16am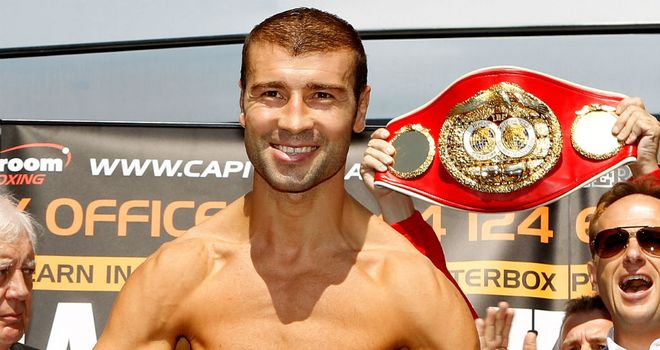 The 32-year-old's devastating, five-round defeat against the Cobra back in May has crushed whatever mental strength he had and that was evident this weekend as he limped to a points victory over Russia's Denis Grachev in Montreal.
Bute's superior class told in the backend of the fight but for a large portion of it he looked ill at ease against a man who had only had 13 professional bouts prior to this match-up. He should have delivered a master-class against someone at that level.
Froch's win showed fighters what you need to do to worry Bute - get in close, keep him against the ropes and level him with short, straight shots.
Grachev was obviously paying attention because he deployed similar tactics, but just did not have the quality to see the job through.
Bute fought Grachev at light-heavyweight but as he was only one pound over the super-middleweight limit, the Russian had to shrink himself down. Bute was looking for an advantage over a guy he should already have had an advantage over, which once again shows how much confidence he lacks.
The southpaw is contractually obliged to fight Froch again next year, this time in Canada, but I think his people will want that contest more than he does and if he can find a way out if it he will.
There are few super-middleweights, other than Froch, Andre Ward and Mikkel Kessler, who you could argue are better than him, so he can still fight at world level without having to take a risk against a gun boxer.
Setbacks
Froch, provided he dispatches Yusaf Mack on Saturday week, will be the overwhelming favourite for the rematch, but you can't rule Bute, whose loss to Froch is the only one his CV, out of it as he has recovered from setbacks before.
He nearly got smashed by Librado Andrade in 2008 but in the second contest between the pair he stepped up and dealt with the Mexican, while there is always a danger that Froch does not take Bute as seriously next time - which is always a potential recipe for disaster.
A second fight would definitely be harder for Froch than the first one, but the dissection Bute received from the Nottingham man was so severe that I find it difficult to see him coming out on top - and ever being the fighter he was before.
Froch, who boxed with great intensity and instinct against Bute, could always underestimate Mack in a couple of weeks' time because the American is a step down from his last half-dozen opponents.
He has been fighting the best in the world - the likes of Ward, Kessler, and Arthur Abraham - whereas Mack, with the greatest respect, is first division, so it won't be easy for the Cobra to lift himself and we may very well see a scrappy contest.
We had Mack on Ringside a few shows ago and he seemed like a top guy, while in the ring he is a trier, but he hasn't beaten anyone of any note and has done nothing to suggest he belongs in Froch's company. He will have enough to trouble Carl, though, and I don't expect a vintage performance - but Froch will win.
Favours
WBO cruiserweight champion Marco Huck registered a contentious points victory over fellow German Firat Arslan on Saturday night - but it's not like this hasn't happened before. He has certainly had a couple of favours in the past.
Huck's time with the strap may only come to an end when he gets beaten hands down - and Britain's Ola Afolabi could be handed that opportunity to do that for a third time in the near future, following a draw and a defeat in his first two efforts.
Afolabi is starting to believe that he is more than a sparring partner and if he can win a world title he will be very hard to dislodge because he will then have the self-belief to back up his talent.
The cruiserweight division is in good shape at the moment and there are a lot of fast, heavy-hitting guys, but we don't have that one star, burning with charisma, that everyone can get behind. If we find him, the cruiserweight union will get a lot more exposure.