Brain power
Johnny Nelson says Tony Bellew boxed intelligently during his nine-round win over Edison Miranda.
Last Updated: 11/09/12 11:03am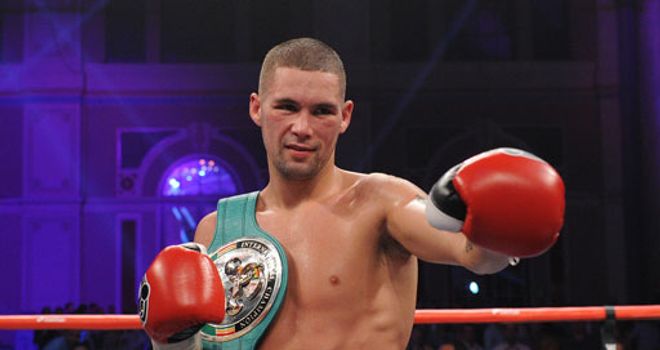 Tony Bellew is famed for his aggressive boxing style but in his victory over Edison Miranda he had to use brain over brawn.
As a man who wears his heart on his sleeve, the Liverpudlian probably felt under pressure to excite the crowd, so for him to take his time and remain cool, even when Miranda was showboating and trying to belittle him, shows how Bellew is developing.
Tony's main weapon is his punching but if he is going to get to world-title level - and become world class - he is going to come across tougher, lither, more skilled opponents and he won't be able to rely on a few shattering blows to pick up his wins; he will need to be a bit more cerebral.
Confidence
Bellew's fellow light-heavyweight Nathan Cleverly is a very good boxer, but he often fights obscure foreign guys who not many people have heard of. Tony's opponent on Saturday night, though, was perfect.
Miranda is past his best but is experienced, was strong enough to hurt Bellew, has fought good fighters and is a relatively big name, so to stop him in nine rounds is a feather in Tony's cap and puts his name in the mix for even more high-profile bouts.
I've seen him work out, where he gets physically tested to the max by his trainers and leaves nothing to chance, and I've told him that if he doesn't become world champion I don't know boxing. The only things he needs to work on now are his confidence and dominance.
Tony really seized the initiative after seven rounds against Miranda, but he needs to make sure he is doing that after a couple of rounds and really uses his height, reach, slick jab and quick combinations.
There were times during Saturday's fight, due to Tony not being sure whether the Colombian was really tired or was just bluffing, where he boxed a little too safe.
That's easy to do when there is a lot on the line - and something I did myself - but Bellew won't be able to step off against better boxers.
Following
Reigning light-heavyweight champions Chad Dawson - who dropped to super-middleweight to face Andre Ward over the weekend - Cleverly, Beibut Shumenov and Tavoris Cloud will all be able to pick holes in Bellew's performance but each will know that he could be a threat to them.
Due to the political situation between Bellew and Cleverly you can't see them locking horns unless it is mandatory, so I reckon a clash with Dawson, who was apparently knocked out by Miranda in sparring, could be a logical future fight for Tony.
But I just want to see Bellew do what Ricky Hatton did and make every match mean something; that's the way you get bums on seats and garner a following.
If I was him I'd try and get in with a former world champion or a former opponent of a current world champion next, so that we can get a better feel of how he might fare against Dawson or Shumenov - and he can establish himself on the international scene.
Ward, meanwhile, won his clash with Dawson in convincing style in Oakland on Saturday night, but he cannot yet be compared to guys like Floyd Mayweather or Manny Pacquiao; the latter have won world titles in multiple weight divisions, while the former has only shown what he can do at super-middleweight.
Ward was very smart in getting Dawson down to his weight rather than go up to light-heavyweight, and until he does step up to - and dominates - a new division, he can't be considered a great pound-for-pound fighter.
Ward is an outstanding boxer, but all his fights so far have been on his terms. When he gives away weight and still managers to prevail, that's when we can start extolling his virtues and calling him great.