Girls with power
Johnny Nelson reflects on the Olympic boxing tournament and praises golden girl Nicola Adams.
Last Updated: 13/08/12 2:09pm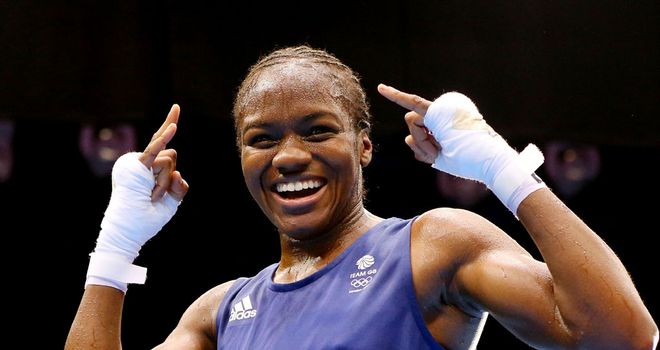 Sky Sports' Johnny Nelson picks out his biggest talking points from an awesome Olympic boxing competition.
A man's game no more
I was probably one of the sceptics about women's boxing joining the Olympics. I didn't voice it but I was sceptical about the effects on a woman's body. But I was completely turned once I watched it. It was brilliant. I am now a massive fan of women's boxing.
The fight between Natasha Jonas and Katie Taylor was one of the best of the tournament. Jonas is an outstanding fighter but she came up against somebody who is very special in Taylor. If you ever want a debate on women in boxing then that fight was the perfect fight to watch. It was a brilliant display of skill, technique, discipline and everything you could ask for.
Amateur appeal
The Olympics showed us a pure form of boxing, which I loved. There were crowds of 10,000 watching it and it was unbelievable. It was competition at its best. Boxing is the only sport in the Olympics in which you can't have a professional competing and what we saw just proves why. Professional footballers and tennis players can compete but professional boxers can't - they have been stained by the politics of professionalism.
These guys are great examples for young people and they have inspired so many men and women, boys and girls, young and old to want to get fit, to box, to watch boxing and get involved in sport. That is what it is all about - inspiration.
Backing the talent
I thought the quality of the boxing in general, and from our Brits in particular, was excellent. When I went into the Institute of Sport in Sheffield I was amazed, jealous and envious and I said these guys should not lose because they have everything at hand. From diet to training to facilities to stability - they should not lose. These guys proved if they have the facilities they can deliver the good and the golds.
Crowds ExCel
The crowds were unbelievable. Most of them didn't know boxing but they loved it. They were on their feet and going crazy. The atmosphere for the Katie Taylor v Natasha Jonas fight was as good as for the Carl Froch against Lucian Brute fight. The Irish fans are mad and such fun. I enjoyed it so, so much. It was a great party atmosphere and it was sport at its best.
The star
Natasha Jonas, Ireland's Katie Taylor, Anthony Joshua, Luke Campbell all expected to get a title. But nobody expected Nicola Adams to come away with a gold medal. She is so humble, so appreciative and she is the one standout star. When I saw her on the Monday she had a massive smile on her face and was doing the Ali shuffle, and I thought, 'man, she is good'.
The pros and the cons
The question now for many of the boxers is: are they going to get lost in the politics of the professional game? We have seen it happen time and time again. We saw it with James DeGale and a lot of fighters who are very talented but the politics has messed them up. I hope this does not happen with this crop of fighters. Let's hope they learn the lessons from everybody else's mistakes.
If they intend to turn professional eventually they need to do it so they can get the experience and make the right moves. Twenty to 30 is the peak time when you want to get the experience of being a world champion and then start thinking about walking away at 30. So you don't want to stay amateur too long.
In the fight game what happens is when a fighter sees a bag of gold dangling in front of them they grab it. But that is the only bag of gold they are ever going to get if they make that mistake and get lost in the politics of the game.
They want to play the long game, take one step at a time, not price themselves out of the market, don't be too greedy or get caught up in thinking they are too good because they are at the bottom of the ladder when they turn pro. They need to think strategically about how they can progress as a boxer and get a family member or trusted confidant to take care of the other side.