What have you got?
Kell Brook can make people sit up and realise his true potential on Saturday night, says Johnny Nelson.
Last Updated: 05/07/12 2:50pm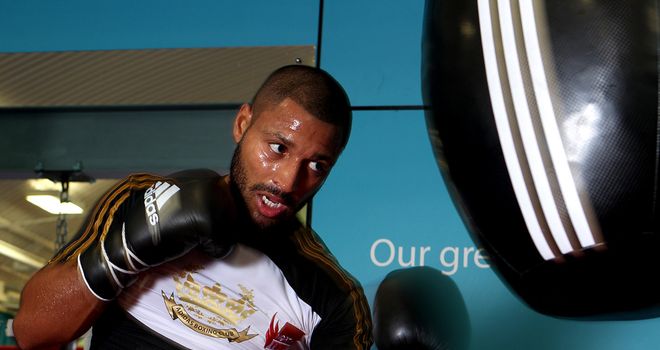 We've been talking about the potential of Kell Brook for some time but on Saturday night he can make everyone sit up and realise just how talented he is.
He takes on Carson Jones at the Motorpoint Arena in Sheffield in a fight which could propel him to the brink of a world title fight against one of the biggest names in the sport.
Jones is ranked third in the IBF welterweight rankings, one place above Kell, so it was strange to hear the American describing the young Brit as his own stepping stone to a shot at Floyd Mayweather and the WBC crown.
You'd expect him to be looking up at Randall Bailey and Mike Jones, who are ranked second and first respectively in the IBF rankings, as stepping stones to a shot at Mayweather. But, by putting Kell on a higher pedestal than his previous opponents and acknowledging him as a threat, it just shows the respect he has for the Sheffield fighter.
In reality this is Kell's stepping stone to get closer to his goal - his dream - of fighting for a world title. But it won't be easy.
Jones has been beaten eight times during his career (34-8-2) but the fact he's still here, moving up the rankings and talking about fighting Mayweather shows he has great determination. That's really his strength.
When Kell goes toe-to-toe with him in the ring he'll look at Jones and be aware that this man is going to be hard to stop. His passion and desire is all driven towards his goal of a world title shot.
Out of character
But it seems Brook has managed to get under Jones' skin and unsettle him. In their first press conference Kell set about aggravating him to the point where Jones got upset and started talking about getting into a tear up with Brook in the ring.
That was a great ploy by Kell. If you get someone mad enough they can't even think straight let alone fight straight. Even Carson's coach said it was out of character for Jones to start talking like that. Normally he's so calm and placid.
That will work in Kell's favour. Now he just needs to stick to his game plan and make sure he's spot-on come fight night. He's talked the talk, now he needs to walk the walk.
When that bell rings I want to see the nasty Kell I see in the gym.
In front of a home crowd he needs to start well. He's got an unbelievable jab - it's like a right hand hitting you flush in the face when he lets that shot go - and he needs to establish that early. He needs to get Jones thinking about that so, before he tries to do anything himself and coming forward, he thinks twice.
Kell needs to respect Jones but if he is right on his game and deals with the pressure and fight Jones' is going to bring he can put himself right up there in the headlines - and start looking at a match-up with the real big names of this division.
I predict a tight fight but I'm expecting Kell to stop Carson Jones late on.