American cutey
Johnny Nelson praises Prizefighter winner Tor Hamer's brains, but certainly not Kevin Johnson's brawn!
Last Updated: 21/06/12 6:50pm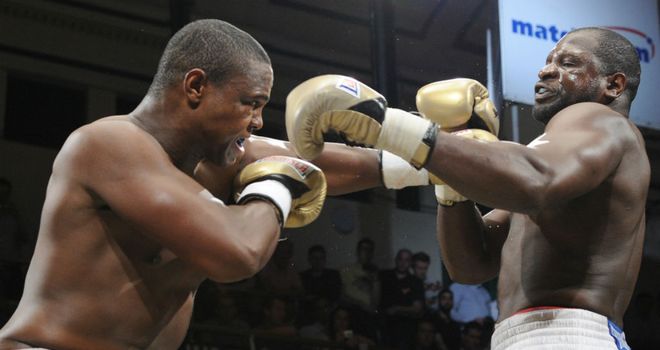 America saw a heavyweight winner at the latest Prizefighter, but did it produce someone to spark some life into their big boys? Did it prove that they'll always have decent heavyweights to turn to? Far from it.
International Prizefighter was never really going to propel someone up the world rankings as it has done in the past, in Britain particularly, but it might have made a name or two along the way.
Well, sadly not this time. Tor Hamer won it, but will we see him again, taking on big names? I can't see it.
We saw Kevin Johnson talk the talk - and then some. This guy can fight, but boy is he lazy. The way he was putting his punches together against Albert Sosnowski showed that, but he didn't have the wherewithal to beat him. He had that sparring partner attitude, where you're used to taking a beating and not giving much back - and having no real desire to win.
Watching him I just thought he would drive you insane in the gym or in the ring, because he needs to apply himself. And then, he could do alright.
Johnson talks a great fight but looking at him - not just last night either - I didn't see anything special. There was nothing making me think 'this guy's gonna be a superstar'. Nothing at all, yet he was the man expected to win.
He was the man who told us all he would win it, but he didn't do enough homework on the other fighters, he was just the best talker, the best at mind games. Some people were even beaten before the bell went.
The only person who wasn't was Tor Hamer. He was articulate, intelligent and he had pre-planned how he was going to box against each fighter. He sorted out what he was doing in his fights, but Johnson was just arrogant. He was a bit rude at times, dismissive of people and that was a problem.
In the fight game, the mental side is as important as the physical battle. But Hamer was too intelligent to fall for that. Remember at the beginning he just said he was going to do his best, hoping to get to the final and even after he'd won he said that in a different format, he probably wouldn't beat these guys. But this format suited him; he's quick, he's fast, in-and-out so Prizefighter suited him.
Even when he stopped Tom Dallas he reminded me of Joe Frazier. He was on him, bobbing and weaving and swinging his shots from the word go. He knew Dallas was a spent force and knew he could beat him so he took him out.
I don't think we will see Hamer making great shakes though. Eddie Hearn may bring him over, or David Price might fancy him because he's won Prizefighter, but in the big scheme of things, he would be worth it if he had a decent record.
But the best person he's beaten is Johnson, in Prizefighter.
Context
The Americans have put it in context as a three-fight tournament, not detrimental to their careers, winning or losing it. In reality, it shouldn't be because it's a totally different game.
The good thing about International Prizefighter is there were guys who didn't understand what it was about, in the nicest possible way! It was like the very first Prizefighter, especially at the start, when they just came out and gave it everything and had a ding-dong. Even Tom Dallas and Tom Little's all-British fight was the best one, then Dallas and Hamer came second, because it was all-out action and the pressure was on from the word go!
Eddie Hearn did the right thing with these heavyweights because last time they were just big lumps trying to be smart, who were slow and tired. But this time there were small heavyweights that had some fire in them.
I'll tell you what they might do soon; just get a load of bangers, guys that are knockout artists, who deal more with KO's than winning on points. Get them, then we're guaranteed some action, a bit like Noureddine Meddoun, the Moroccan, who even though he was poor, went out to have a go at Johnson.
It's a shame he didn't stop him and shut him up in that first fight of the night!