Nott a big deal
Johnny Nelson explains why Lucian Bute may thrive by fighting in Carl Froch's home town.
Last Updated: 25/05/12 5:27pm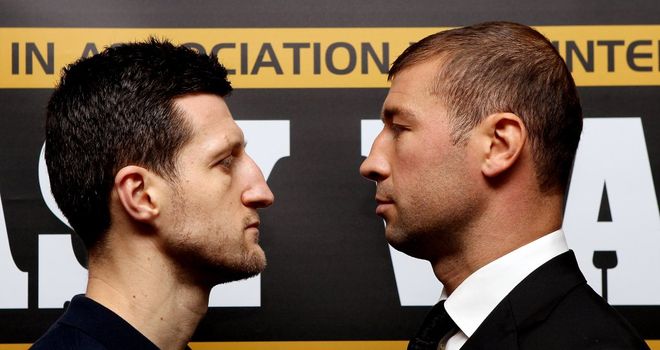 Saturday night's fight is a really hard one to call.
For once we have two guys in the ring that truly believe they'll win, two guys that are truly equal and who are at their best career-wise.
Carl Froch v Lucian Bute reminds me of Nigel Benn v Chris Eubank. The only difference is there's no animosity between these two guys. The reason those Benn-Eubank battles were such crackers was that they were evenly matched fights. This is no different.
People will be talking about this for the rest of the year because they're so evenly matched. They both think they're best.
Bute is thinking 'I'm unbeaten, I'm the guy at the top. Fight me, beat me, and then we'll talk about it.' He doesn't feel he's got anything to prove; otherwise it would have been him in the World Super Six.
Meanwhile, Froch is hyping the home advantage. However, I'm not sure that it's going to be such an advantage.
When I boxed abroad, I actually preferred it because it brings the animal out in you. My best performances were in everybody else's back yard because when I thought everyone was against me, I was determined to beat every one of them.
It worked for me, and that's why I think it could work for Bute. At this level these guys aren't mentally weak; they don't need the crowd to make them win.
Similarly, Froch could fight anywhere in the world. This is more a gift to the crowd than it is for him. He could fight anywhere and be outstanding - and we've seen that in the past.
However, he will be trying to feed on any insecurities Bute may have. At this point at world level, you try to plant a seed of doubt in your opponent's mind. Right now they'll be looking at each other, seeing if the other is confident, walking tall, drained at the weight, silly little things that.
To most people that may seem like nothing, but to fighters you only need the slightest detail to give yourself that mental boost.
As for Bute, he is very intelligent. He reminds me of Wladimir Klitschko because he's very sure about himself, he's a gentleman, he's charming and you think 'yeah, there's a lot more to this guy'.
This guy knows the job. He's come here in a suit, looking smart, relaxed, respectful, he ain't no bum and he's knows exactly what he's doing. I'm very impressed.
Initially I thought Froch could win this fight; he's on home soil, he's boxed the best in the world in his last half dozen fights and he has got that mentality to think 'I should be here'.
But it's going to be so close and I really do rate Bute because he is slick and he's big at the weight, bigger than Carl.
If you asked me now I think I would side towards the reigning champion.