Battle of the brains
Carl Froch must get his tactics right in his world title fight with Lucian Bute, says Johnny Nelson.
Last Updated: 18/05/12 2:14pm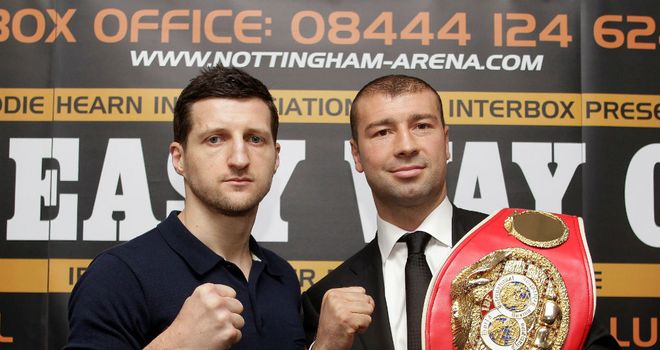 Carl Froch and Lucian Bute arrive at a crossroads in their careers on Saturday 26 May.
They'll go head-to-head for Bute's IBF super-middleweight title live on Sky Sports in a bout which will have a real impact on each fighter's legacy.
For Froch it's a chance to become a three-time world champion. He has never really got the credit he deserves - he's never had the respect fighters like Nigel Benn, Chris Eubank and even Joe Calzaghe were afforded. Perhaps that's because he's an unassuming guy. Either way, victory in this fight won't make him a superstar overnight. But if you know your boxing you'll know Carl Froch has achieved something special if he becomes a world champion for a third time.
In the other corner is Lucian Bute and he's got a proud undefeated record to defend (30-0). It's testament to his confidence and self-belief that he's going to Froch's hometown to topple him and to show that, although he wasn't involved in the Super Six, he is the real deal.
So it's an important fight for both men, who both have a lot to gain by winning the bout.
Lessons learnt?
In terms of the fight, I'm expecting it to be a real dog fight. Froch will try to walk Bute down and make it a tear up. That's not necessarily a problem for Bute - he's been in tear ups before and he can certainly fight. But I expect Bute to hit and move and try to not get involved.
In Froch's last fight against Andre Ward he tried to walk him down and he has said himself that he got his tactics wrong on the night. Ward was able to pick-pocket him and in the end made it look easy. Bute will have learnt a lot from watching that fight. That's the blueprint for beating Carl Froch: don't get involved, be smart, be calm, be cool, pick your shots and control the pace.
Carl needs to avoid making the same mistakes again. He needs to fight with his brains as well as his brawn. He needs to use a nice straight jab from distance with accuracy, mix it up, box and fight, calm himself down and not go in there always looking for the big shot straight away. This fight is a mental battle as much as a physical one for Froch. He has to win the tactical battle to win the fight.
No home advantage
A lot has been made about Froch fighting in front of his hometown fans - but the fight will be won inside the ring. It's great for Froch - who has spent so much of his career fighting away from home - to be able to compete for a world title on his door step. And it's great for his fans to see him in Nottingham, too. But it won't be decisive to the fight.
Froch has put on plenty of stellar performances in his opponents' back yards before, so I think fighting at home is not decisive for his chances.
What is for sure is it's going to be a very close fight. I can definitely see it going the distance and being won on a narrow points decision. These fighters are 50-50 all the way down the line, for me. I'm going to see their final preparations next week and maybe then I'll be able to come down on one side of the fence. Check out my article next week for my prediction.